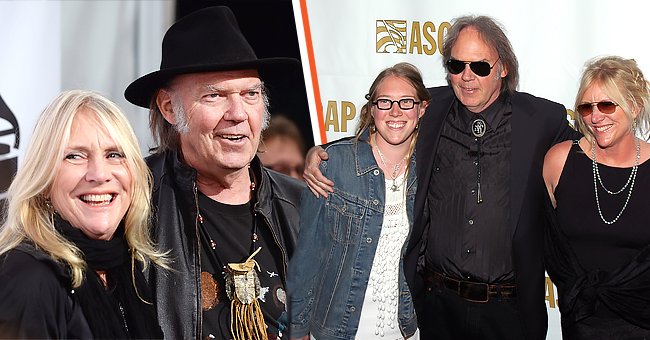 Getty Images
Inside Neil Young's Love Story: His Wife Pegi Was 'a Wonderful Mother' Who Lost Battle with Cancer

Neil Young's 36-year-marriage to Pegi Young was nothing but pure bliss until they experienced a rough patch at the end. Together, they made beautiful music and opened a foundation for kids with cerebral palsy.
Before there was Pegi, Neil Young was married to actress Carrie Snodgrass, with whom he shares a son, Zeke. Their little boy had cerebral palsy, but little did the singer know that his experience with the health condition was only the beginning.
Neil would later meet his second wife, Pegi, and have two more kids, including another son with cerebral palsy. Although challenging, Neil and Pegi navigated through parenthood and married life together until their unfortunate divorce 36 years later.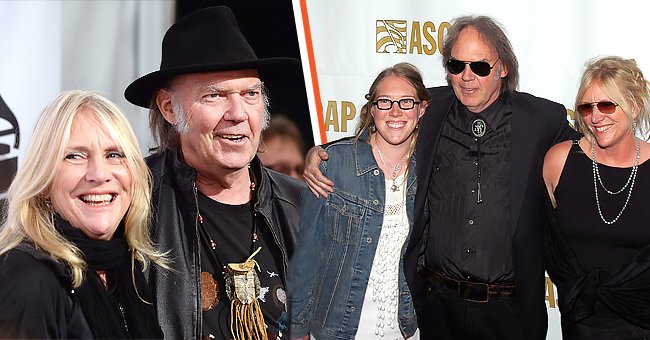 Neil Young and Pegi Young during the 56th GRAMMY Awards P&E Wing Event Honoring Neil Young at The Village Recording Studios on January 21, 2014 in Los Angeles, California. | Source: Getty Images
THE START OF ROMANCE
Neil first locked eyes with Pegi, born Margaret Morton, in 1974 while she was waitressing at La Honda, a California restaurant. Neil's opening lines for his song "Unknown Legend" are about her. As the song goes:
"She used to work in a diner. Never saw a woman look finer. I used to order just to watch her float across the floor."
In 1978, following Neil's divorce to Snodgrass, the couple tied the knot and had two children, a daughter, Amber Jean, and a son who also had a severe case of cerebral palsy, Ben.
CO-FOUNDING THE BRIDGE SCHOOL
After exhausting all efforts, the couple could not find a school fit to handle Ben's needs as a cerebral palsy patient. So, they co-founded the Bridge School in 1986 to aid their son and those like him experiencing severe physical and speech impairments.
Pegi had just released her album "Lonely in a Crowded Room" when news about her ex-husband's new marriage surfaced.
The California-based institution holds annual benefit concerts to help raise money for the school. Over the years, music legends such as Bruce Springsteen, Metallica, Pearl Jam, David Bowie, the Who, a Temple of the Dog, and Elvis Costello have graced the stage and assisted in the school.
RAISING A FAMILY
Apart from focusing on Ben's needs, Pegi was determined to keep their family together despite her husband's schedule. She eventually joined her husband on stage as a backup singer to continue her past singing hobby and keep the family close to each other. She said:
"We wanted to be together as a family. So when we could, we lived like gypsies and just lived on the bus and traveled together. I tried to keep a real balance of normality in our family, and I guarded our privacy fiercely."
While on the road together, Pegi admitted that her husband did not give her special treatment. "He certainly doesn't cut me any more slack than anybody else. If he wants to hear something a certain way, he's the clear boss. Leader of the band," she said:
PURSUING A CAREER IN MUSIC
Eventually, Pegi fell in love with making music and pursued a career in the craft. In 2007, she recorded a debut LP and produced three more albums. In 2010, she released "Foul Deeds," followed by "Bracing for Impact" in 2011.
Pegi revealed that she wrote songs and sang to her beat before meeting Neil in a previous interview. Pegi called singing a "longtime love" of hers as she wanted to give it all to progress her career.
The songstress would later use her musical talent to express the emotions she had for Neil and their relationship.
THE END OF THEIR RELATIONSHIP
In 2014, Neil left Pegi shocked as he filed for divorce. She knew that they were going through a difficult time in their marriage but did not think that they would ever reach a divorce. Pegi's album, "Raw," released in 2017, featured tracks that seemed to have been about her relationship with Neil.
Some of these include "Why," "A Thousand Tears," "Gave My Best to You," "Trying to Live My Life Without You," "Do I Ever Cross Your Mind," and "When I Needed You Most."
"We looked at all the songs we had, and I just put together this initial sequence, and, you know, it was perfect," Pegi said. "It told a story. I kind of look at it as a soundtrack to the seven stages of grief. You've got anger, then shock and disbelief."
PEGI'S PASSING
In 2018, Neil married actress and activist Daryl Hannah. Pegi had just released her album "Lonely in a Crowded Room" when news about her ex-husband's new marriage surfaced.
The following year, on New Year's Day, Pegi passed away after a year-long battle with cancer. She was 66 years old and surrounded by family and friends during her time of passing. According to the official statement:
"Pegi Young – mother, grandmother, sister, auntie, musician, activist, and co-founder of the Bridge School – passed away surrounded by her friends and family in her native California."
Many celebrities have succumbed to cancer in the past, while others continue to battle the life-threatening illness. Primetime Emmy Award winner Kathy Griffith is open about her cancer journey.
Griffith has been optimistic about fighting lung cancer and often shares the positivity with her fans on social media. According to her doctors, the recovery process looks bright as the tumor is still in its early stages. Hopefully, everything turns out well for the comedian as she inspires other cancer patients.
Please fill in your e-mail so we can share with you our top stories!
The information in this article is not intended or implied to be a substitute for professional medical advice, diagnosis or treatment. All content, including text, and images contained on news.AmoMama.com, or available through news.AmoMama.com is for general information purposes only. news.AmoMama.com does not take responsibility for any action taken as a result of reading this article. Before undertaking any course of treatment please consult with your healthcare provider.