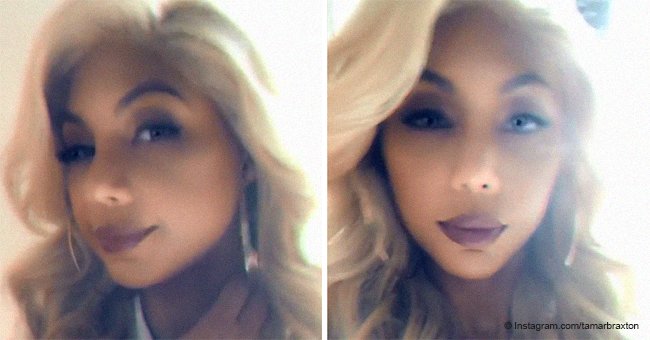 Tamar Braxton shows off new blonde wig while on date night with boyfriend
Tamar Braxton's latest look is a blonde delight, and the reality star/singer is not afraid to flaunt it while on date night with her Nigerian boyfriend.
The "Love and War" artist shared a video debut of the blonde wig that fell way past her shoulders. She wore it parted down the middle with defined curls and completed her look with heavy makeup.
Braxton, 41, also informed fans about her "Date night Wednesday" and offered a glimpse of her blazer-and-skinny jeans combo.
"I would love to have some wonderful, beautiful African children for the Lord. Yes!"
The "Braxton Family Values" star went bald a while back, and fans had gotten used to seeing her without hair. It made this recent video all the more shocking, and social media users said as much in the comments.
SOCIAL MEDIA REACTION
Mixed reactions from the public played out as some praised Braxton's beauty while others bashed the look.
"I like you so much with the baldie I forgot how poppin you look with the hair" ~ @keemkarter
"Too much!!!! You have lost your identity girl!" ~ @lahcheryl89131
"Hey as long as you happy baby! Live your life! You look good!" ~ @mslovemovies
Negative comments or not, Braxton looks like she'll rather concentrate on having fun with Yemi, the new man in her life.
TAMAR'S NEW CHAPTER
It was almost a year after she filed for divorce from her ex-husband, Vince Herbert that Braxton met the Nigerian guy, but she confessed on the Wendy Williams Show in September that even though they've been dating for about three months, she feels like it's been forever.
The lovebirds were spotted on a boat some days back, and Braxton seemed to be having the time of her life while keeping her man's identity a mystery as usual.
When some Instagram users berated Braxton for not revealing her boyfriend's face, another came to the celebrity's defense, saying:
"People it's 2019…let this lady enjoy that African KING in PEACE…she will reveal when SHE'S ready….who she is makes it IMPOSSIBLE to have a good relationship with all of US in her business."
IN IT FOR THE LONG HAUL
Meanwhile, Braxton is wasting no time declaring her intentions concerning her new man, who is an alumnus of Harvard Business School.
"I would love to have some wonderful, beautiful African children for the Lord. Yes!" she told Wendy Williams on her show.
The former "The Real" co-host has also introduced her five-year-old son, Logan to Yemi and has already started stepping up her head-wrap game.
When a social media user implied that her partner already has a wife in his home-country, Braxton shut her down in a classy way, letting her know she'll be traveling to Nigeria with him for his mother's birthday.
Braxton is very much in love with this man, and if he's cool with her new blonde look, we have a feeling the "Bluebird Of Happiness" singer won't care for much else.
Please fill in your e-mail so we can share with you our top stories!