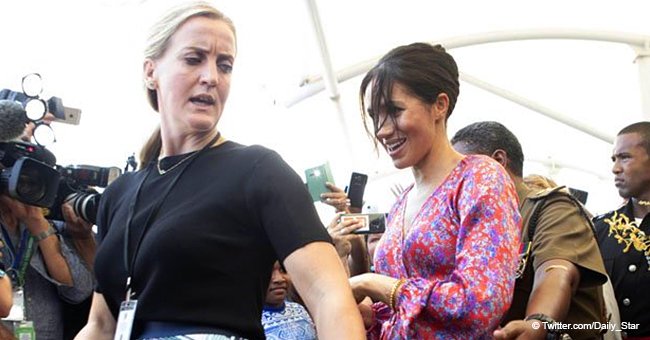 Meghan Markle's bodyguard reportedly quits after only six months into her role
Meghan Markle's bodyguard is resigning after six months. Reports suggest the reason could be both personal and an issue with the Duchess' struggle with the constant presence of security.
Meghan Markle's bodyguard is reportedly resigning after six months on the job, fueling more talks of her being "Duchess Difficult."
THIRD RESIGNATION IN MONTHS
Markle's female bodyguard's resignation is the third in a series of senior aides who decided to leave the royal's camp after a short term of service. Week's earlier, her personal assistant Melissa Toubati left after six months due to unconfirmed reasons.
Samantha Cohen, who served for Queen Elizabeth for 17 years and was tasked to give "duchess lessons" to Markle also bid goodbye in November. However, it is believed that her reasons for leaving had nothing to do with a personality clash with Markle. She was assigned to the royal and her husband Prince Harry on a temporary basis until a permanent aide replaced her.
WHY HER BODYGUARD RESIGNED
Meanwhile, Markle's bodyguard is the first female to be appointed a key position with the royals. She is reportedly leaving the Met Police which prompted her to inform her high-profile bosses last Christmas of her departure. Contrary to what many are suspecting, her resignation is for personal reasons and "had absolutely nothing to with the duke or duchess," according to a Scotland Yard source who spoke to the Daily Mail.
ON BEING "DUCHESS DIFFICULT"
Though her reason for her resignation is personal, there are rumors circulating that it may also be due to problems the bodyguard faced in protecting Markle who was labeled "Duchess Difficult" following the string of resignations from her camp. The Duchess of Sussex is reportedly struggling with having a security detail that restrains her independence. A source told the Sunday Times,
"Unlike someone who has grown up in the Royal Family and has been used to close protection from an early age, having it can be quite constraining."
"Even though she was a famous actress, she could still do what she wanted in the way of getting around freely. But in her current role she can't go anywhere without her protection team and that's a massive constraining force on an individual like her."
Markle's bodyguard remains unnamed due to security reasons but her face became prominent when she whisked the Duchess away from a mismanaged crowd during the Sussexes' trip to a market in Fiji in October.
Her replacement has yet to be revealed with the absence of a comment from Kensington Palace regarding her resignation.
Please fill in your e-mail so we can share with you our top stories!