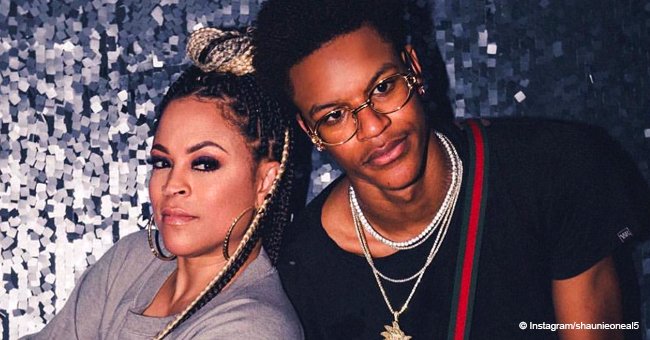 Shaunie O'Neal celebrates son's 19th b-day in sweet post 1 month after he underwent heart surgery
Shareef O'Neal, the eldest son of Shaunie and Shaquille O'Neal, celebrated his 19th birthday one month after he underwent heart surgery. To commemorate such a special date, Shaunie took to her Instagram to send her son a heartwarming message alongside several throwback pics.
The "Basketball Wives" star is a proud and relieved mom after watching her son go into the operating room last December. Shaunie proved, once again, her unconditional love for Shareef as she shared several throwback pics from the young man's childhood alongside more recent ones, to wish him a happy birthday.
"Help me wish my baby @shareefoneal a very Happy Birthday!!! This is your year son! #19 #thankful #blessed," O'Neal captioned the adorable post.
Fans immediately flooded the comment section with their best wishes to the UCLA student:
"@dolla_milady: Happy Birthday Mr. Tall and Handsome @shareefoneal Stay strong, stress-free, and blessed overall."
"@lovlee4372: Prayers up for his speedy recovery. GOD GOT HIM, AND THAT'S ALL THAT MATTERS. My prayers for Mommie Strength as well. Happy Birthday and May God bless you with many many more."
"@shanda.collins.7: Happy Birthday Shareef. I'm glad that you are doing good. God is good."
THE HEART CONDITION
It was less than a month ago that Shareef underwent heart surgery. He first announced last September he would be taking a break from his basketball career at UCLA after the team's doctors discovered he had a heart condition that had to be treated with urgency.
The young man, who has become one of the most promising basketball players following his father's steps, made sure to send his fans and supports a message hours after getting out of the surgery.
"I made it Thank you for all the love and support!" he said in an Instagram post, typed by his sister Mimi. "I really appreciate all your thoughts and prayers, that's what helped me through this surgery. I'm on the road to recovery, and I'll be back soon...better than ever."
Shareef's recovery will take a few more months, but he's already back home and on his feet.
REFLECTING ON THE HARDSHIPS
The handsome young man got to spend the holidays with his family, and on New Year's Day, he took to Instagram to reflect on his chaotic year. "This year I was constantly hit with something new to try to break me down or knock me down ... I always get back up. As the year went on the hits were getting harder," he started.
He went on to say that, although things didn't go as he expected, as he wasn't able to play with his team, he's grateful for being here today.
"I want to thank everyone who was apart of this year's journey! I want to say thank you to everyone that supported me and sent me good spirits going into the tough stuff that happened," he added.
Shareef also made sure to celebrate his birthday, as he posted a pic donning a white Gucci shirt under a padded yellow jacket, and captioned it:
"SHEESH that 19 don't feel any different from 18 lol... happy bday to me #ssjreef."
Fans, teammates and family members are rooting for Shareef's speedy recovery so he can go back to the basketball court very soon. Meanwhile, he keeps focusing on his studies as he revealed the recovery process wouldn't interrupt his classes.
Please fill in your e-mail so we can share with you our top stories!