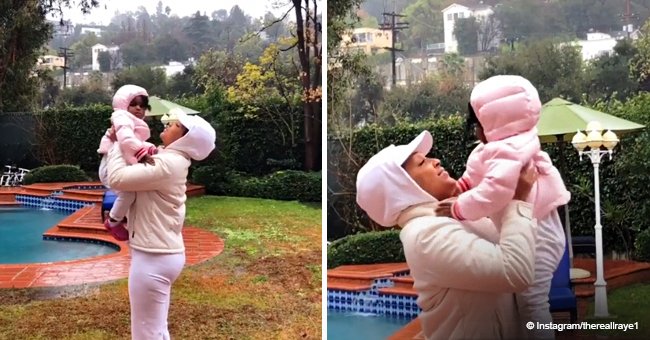 LisaRaye McCoy melts hearts as she dances in the rain with adorable granddaughter in touching video
LisaRaye McCoy is starting the year with her right foot, getting into boxing, being featured on BET's "The Family Business" and making beautiful memories with her only grandchild, Bella Rae.
The "Single Ladies" actress loves to spend time with her adorable granddaughter, and fans are always delighted whenever she shares a pic or video of the toddler on Instagram. The most recent one, posted on Monday, shows LisaRaye and baby Bella having fun under the rain.
In the clip, Lisa and Bella are wearing matching white pants, with the actress donning a white hoodie and cap to protect herself from the rain, and Bella rocking a padded pink jacket. Lisa danced and twirled under the rain with Bella in her arms, but the girl was clearly not amused by getting wet.
"Look up, look up! See the rain?" Lisa asks the girl, but baby Bella gives the camera a side-look and proceeds to scream, showing her discomfort. Lisa, on the other hand, keeps giggling, amused by her grandchild's antics.
"@babybellarae thought she couldn't go outside because of the rain..... #Raindrops #LifeRocks #GranDoWhatSheWants #ComingSoon," she captioned the adorable clip.
The video also amused fans, who flooded LisaRaye's comment section with their thoughts.
"She is like, you can play in the rain by yourself," said one fan of Bella's behavior. Another focused on how happy McCoy looks around Bella, saying: "It's so beautiful to see u with her and how u light up."
And a third one praised Lisa for teaching her granddaughter that you can also have fun in the rain:
"BEAUTIFUL! This whole moment can really preach! When God teaches you that not only can you survive the rain, but you can dance in it too! Then you show you children & your children's children!"
BELLA'S BIRTHDAY PARTY
Bella Rae, the only child of LisaRaye's daughter, Kai Morae, turned 2-year-old last month. To celebrate, the McCoy family threw a Minnie Mouse-themed birthday party for the girl, and according to the pics and video LisaRaye shared, everyone had a blast.
The toddler looked adorable wearing white dungarees with a Minnie Mouse print on the front and paired it with a long-sleeved Minnie Mouse printed shirt. Her curly hair was neatly combed into two puffs and secured in place with pink bows.
Kai Morae, who was only 26 when she had Bella, looked gorgeous in a pink top and black pants, and her stylish long grey hair was braided in knots atop her head.
FOUR GENERATIONS IN ONE PIC
LisaRaye got into the party spirit wearing a Minnie Mouse headband as she posed with her own mother, Katie McCoy, plus Kai and Bella, for an epic photo showing four generations of the women in the family.
Is clear that love and good looks run in the family, and just as Katie made sure to raise LisaRaye into a strong, independent and talented woman, she's now doing the same with her daughter and granddaughter. Bella is truly blessed to have such an incredible support system behind her.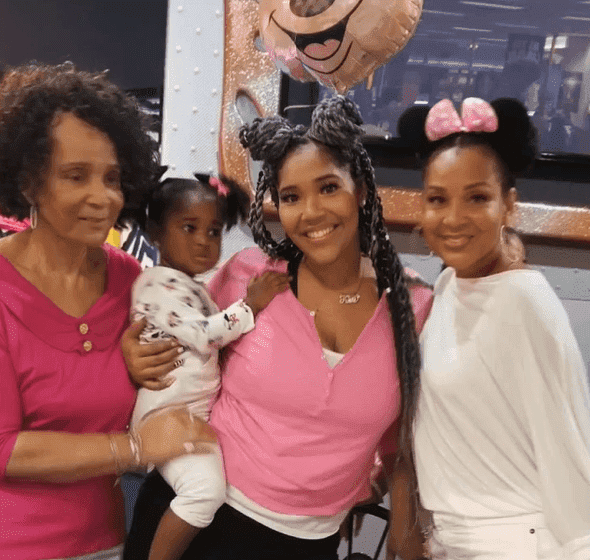 Source: Instagram/thereallraye1
Please fill in your e-mail so we can share with you our top stories!