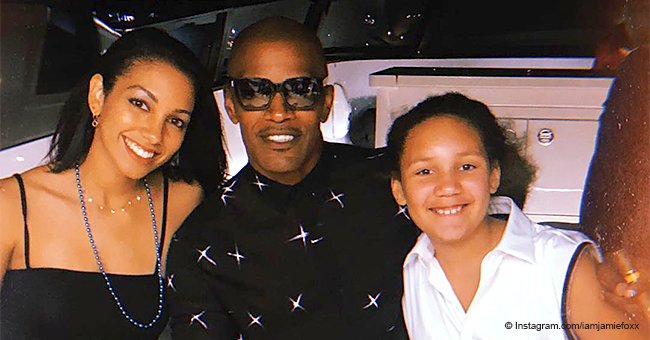 Jamie Foxx's youngest daughter Annalise is all grown, looking pretty like sister Corinne in photo
Jamie Foxx is the proud father of two beautiful girls, and he welcomed the new year with them. The multi-talented star took to Instagram to share an adorable pic with his two girls, Corinne and Annalise, and the 10-year-old is already looking after her big sister's good looks.
The "Robin Hood" star rarely shares pics of his youngest daughter on social media, as the girl enjoys life away from the cameras. However, he made an exception to celebrate the arrival of 2019.
Foxx took to Instagram to post an adorable pic in between his two daughters, Corinne, 24, and Annalise, 10. In the shot, Jamie is wearing a black t-shirt printed with stars, black pants, and sunglasses, while holding a glass with champagne and smiling to the camera.
Annalise looks adorable in a white buttoned up dress, and Corinne flaunted her toned legs in a short black dress and a beaded necklace. Foxx captioned the pic:
"No better way then to spend my New Years with my babies!!! Happy new year to errrrrbody!!! Live and love family @corinnefoxx you are amazing!!! I love u! And Anelise you are incredible!!! I love u! #daddydaughtertime."
Fans took over the actor's comment section to gush about his parenting skills and his beautiful daughters. "Lucky man to be surrounded by beautiful daughters you're proud of!" wrote one user. And another added, "This is so wonderful as spending time with your family and children God bless you all."
A FOOTBALL STAR ON THE RISE
Annalise, following her father's steps, is a football player. Jamie revealed on "Live with Kelly and Ryan" that his daughter is the only girl in her flag football team. "She's had three touchdowns this year. She's about to have a championship," Foxx proudly revealed.
The girl' competitive nature and talent for the sport runs in her blood. " We have a very competitive house," said Foxx. "My pops was a coach, her cousins they all play. So, at the house, we are constantly playing. We don't mention girl or boy; we just get after it."
LIKE FATHER, LIKE DAUGHTER
The 50-year-old Academy Award winner was once a football star too. He was a quarterback at Terrell High School in Terrell, Texas, and holds the titles as the first player in the school's history to pass for over 1,000 yards.
He's also a die-hard Dallas Cowboys fan and is now using all of his knowledge and experience in the sport to help his daughter be the best in the field.
"When she got on the football field, at first [the boys] didn't want to throw it to her. But I said, 'Annalise when you're out, do like this,'" Foxx explained on the show. "She waved her hands, and they threw it to her, and she hit for like a 60 yarder. It was crazy."
Please fill in your e-mail so we can share with you our top stories!