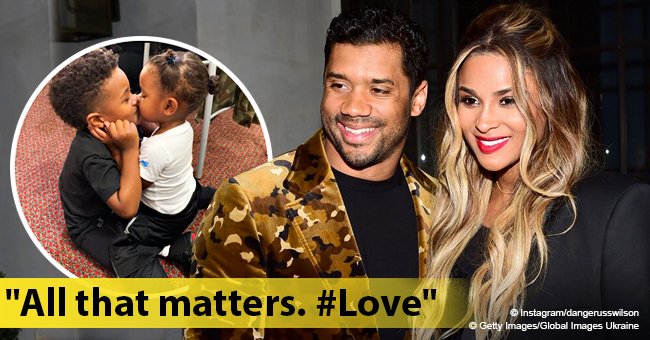 Russell Wilson appears to respond to Future's diss about him & Ciara with adorable pic of his kids
Russell Wilson seems to have responded to Future's diss towards him and Ciara with the perfect and adorable pic of his kids.
The rapper, Future used an interview for Beats 1 radio to make a dig at his ex Ciara and her current man, Russell Wilson. He claimed Ciara introduced their son, Future Jr., to Wilson before he gave it his blessing.
He went on to call the Seahawks Quarterback spineless and declaring that Ciara controls him, saying, "He does exactly what she tells him to do."
Wilson seems to have come up with the perfect response. He simply took to Instagram and posted a pic of his kids.
He captioned the post, "All that matters. #Love." Fans immediately jumped on the post and pointed out that it could be the perfect clap-back to Future's comments as Wilson is raising his son.
"Every time @future tries to throw shade Russ shows a post of him loving and raising his son.. #Salute to Russ!! Savage clap back..." wrote one fan.
Future apparently has a problem with Wilson allowing Ciara to talk trash him on social media. He claims if she was still with him he would have stopped her from talking about her ex.
Future said in the interview, "He not being a man in that position ... he not tellin' her, 'Chill out with that on the Internet. Don't even talk to him. I'm your husband! You better not even bring Future's name up.'"
However, fans were quick to point out that Ciara hasn't mentioned him on any of her social media networks. She did, however, make allegations against Future in public court documents.
Ciara and Future are currently locked in an ongoing custody battle. Ciara is calling for a mediator to intervene.
She wants a travel schedule for Future Jr. to be set in place. She revealed in the court documents that Future allegedly broke scheduled visits and sends the little boy to his family members instead of taking care of him himself.
In the meantime, Future Jr. lives with Ciara, Wilson and their biological daughter.
Please fill in your e-mail so we can share with you our top stories!