Famous Fox News host Bret Baier and family overcome a 'major car crash' together
On Monday morning, Fox News' Chief Political Anchor Bret Baier was involved in a car crash with his family. The news anchor was on his way back from a ski trip when the accident occurred.
The next day, he appeared on "Special Report" where he explained the incident. He also posted the clip on Twitter with some special advice to viewers and social media users.
Bret Baier, 48, was involved in a "major car crash" when his Jeep slid through a stop sign on the icy roads of Montana. At the time, the news anchor was driving his family home from a ski trip.
Ended the show with this tonight-- count your blessings and hug your family. Thank you again to everyone for the support and prayers. @AmyBaier1 and I are very grateful-- #SpecialReport pic.twitter.com/J3TYLXXukk

— Bret Baier (@BretBaier) January 23, 2019
Stephen Colbert was the first to break the news on "The Late Show" on the same day the accident happened. He was supposed to host Baier on his show on Tuesday.
Colbert said to the audience:
"We just found out that (Baier) and his family were in a car accident in Montana. Bad, like, Jaws of Life to get him out of there. They're all in the hospital but they're going to be OK. And we just want to say, we hope you're doing better."
Wishing my friend @BretBaier and his wonderful and loving family only the best. His words are powerful and so true. https://t.co/oWyahkuGCW

— Wolf Blitzer (@wolfblitzer) January 22, 2019
He added:
"Bret's message to everybody out there is they are going to be OK. Thank you for your thoughts and prayers for him and his family, and please, wear your seat belt."
In a statement, the news anchor explained what had happened:
"After a weekend of skiing with my wife and two boys in Montana, driving to the airport Monday morning on icy roads, we were involved in a major car crash. Thanks to a man driving by named Zach who stopped and helped, we were able to climb out of the flipped car. And thanks to the first responders and Montana Highway Patrol – we made it to the hospital quickly."
Thank you very much Howard. We are ok - back home and on the mend. We feel very fortunate. #countyourblessings https://t.co/H1CLuxgk1N

— Bret Baier (@BretBaier) January 22, 2019
Baier further stated:
"We are very grateful to all of those who helped us out. My advice to everyone is to always wear your seatbelt and to count your blessings every day. I tweeted this out as we left the hospital banged up, but alive. 'Don't take anything for granted – every day is a blessing and family is everything. It's always good to remind yourself of that before something does it for you.'"
At the end of Fox News' "Special Report" the news anchor elaborated on the accident. He started off by saying, "I don't usually give advice, but I think everyone should count their blessings. I know my family is tonight."
.@BretBaier has faced down plenty of life's challenges with class, grit and a sense of humor, and he'll undoubtedly do the same with this one. Much love to you B, Amy, Daniel & Paul.

— Megyn Kelly (@megynkelly) January 22, 2019
Baier explained that he'd "hit a big patch of ice and I could not stop our SUV." The family "slid into the intersection of a busy road and into the path of a big pickup truck, which slammed into our driver's side door."
Luckily for the family, their "airbags deployed" but the car's "windows shattered" and they slid "into a ditch and flipped sideways." The family "escaped with minor injuries: A concussion, 14 stitches on a chin, a jostled tooth and a sprained ankle. We are very blessed."
You're a good man, Bret. Very thankful that you and your family is ok.

— Jon Gabriel (@exjon) January 23, 2019
The anchor took to Twitter to share the "Special Report" clip and advised readers to "count your blessings and hug your family." Trooper Alex Velasquez, a Montana Highway Patrol, said Baier was driving outside of Belgrade when he crashed at 9 a.m.
The area had been snowing heavily and the roads were icy. The news anchor's vehicle slid through a stop sign into an intersection where a pickup traveling south struck it.
Hi Bret. My husband was the passenger in the truck. David was taking him to his cancer treatment because he is a great guy. While my husband was in the ER I checked on your family and they said you'd be ok. Those 2 and our dog will be ok also #countyourblessings

— Lisa Burns (@mtlisa) January 23, 2019
Velasquez described Baier as "very polite and respectful." He shared: "I had no idea who he was until the end of my shift when I started getting phone calls. He was actually a super nice guy."
The anchor's colleague Megyn Kelly, CNN's Wolf Blitzer, and journalist Howard Fineman all sent him their good wishes.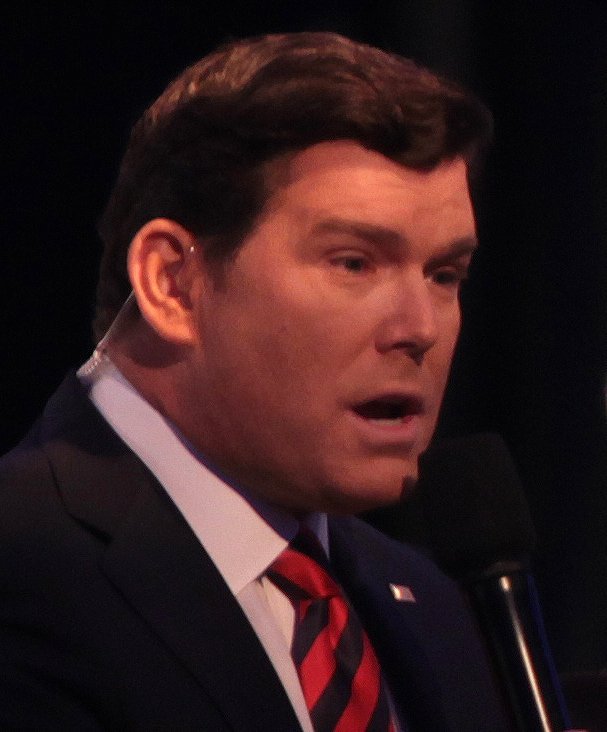 Baier is the host of "Special Report with Bret Baier" and also works as the chief political anchor for Fox. He previously worked as the network's Chief White House Correspondent and Pentagon correspondent.