Hillary Clinton to be a grandmother again! Her daughter Chelsea prepares for a third child
Hillary Clinton's daughter, Chelsea is expecting her third baby, and the family is elated by the news!
38-year-old Chelsea and husband Marc Mezvinsky announced the happy news on Tuesday, January 22. Looking forward to becoming a family of five, Chelsea wrote on Twitter:
"Marc and I have loved watching Charlotte be such a wonderful big sister, and we're excited to watch Aidan become a big brother!"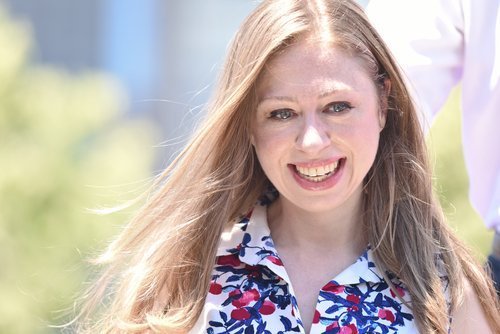 As Chelsey is expecting her third child, the new bundle of joy will soon join her son, two-year-old Aidan and four-year-old daughter, Charlotte. Adding to her post, Chelsea said:
"We cannot wait to meet our newest addition later this summer."
Shortly after the birth of Chelsey and Marc's first child, Charlotte, the new mother told PEOPLE how much it changed her world.
"I didn't know I could care more intensely about anything until I became a mom. Somehow I love my husband, even more, I love my parents even more. I feel even greater urgency about the work that I do, particularly around women and girls being a mom of a daughter."
To Chelsea, the love she felt for Charlotte contagiously made room for so much more in her heart and mind that she could ever imagine.
Marc and I have loved watching Charlotte be such a wonderful big sister and we're excited to watch Aidan become a big brother! We cannot wait to meet our newest addition later this summer.

— Chelsea Clinton (@ChelseaClinton) January 22, 2019
In 2015, Chelsey spoke with PEOPLE shortly before the launch of her first book on September 15, 2015. Charlotte's first birthday was just around the corner, and the conversation inevitably turned to her and Marc, who she wed in 2010, and their experience being first-time parents.
The former first daughter spoke of how they "work hard to be home so we can give Charlotte a bath and put her to bed."Although Chelsea sings Marc's praises as being a "very hands-on" dad, she smilingly added that Marc draws the line at diaper changing.  But he has no problems taking care of it when he is at home alone with her.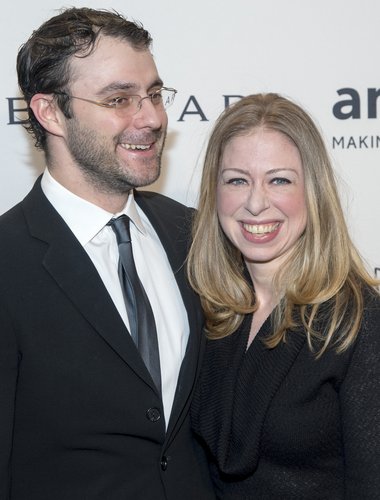 Chelsea noted that the diaper issue is an exception to the rule with Marc, as she
elaborated
:
"I tease him about [it] because it is the exception. He's so attentive, he's so engaged with her, reading to her, helping her get dressed, getting her into her pajamas at night, helping give her a bath. Everything else."
Inspired by motherhood, Chelsea became a children's author. Her first book, "It's Your World: Get Informed, Get Inspired & Get Going!," got released in 2015. With four books to date, the most recent book got published in October 2018, 'Start Now! You Can Make a Difference.'
The latest book, written for kids 7 to 10 years old, gives young readers a better understanding of important issues like health, hunger, climate change, bullying, and endangered species.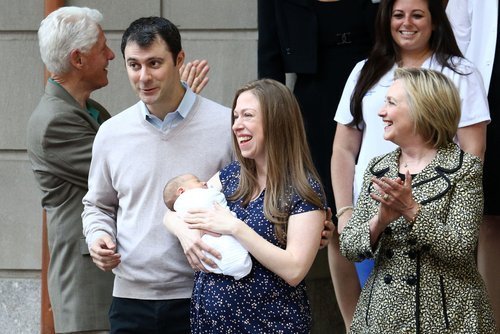 In the book, Chelsea also shares tips and stories wanting to inspire children from a young age to make their impact in the world, an with her children Chelsea does the same as she
added
:
"My children are still relatively small. They're 2 and 4. My daughter turned four last week and yet they are people. So we talk to them and engage them in issues and in ways that help make the world the way we want it to be. We talk about climate change and using energy responsibly."
Empowering the children of today is a topic close to the heart of both Chelsea and her mom, Hillary. On December 6, 2018, Hillary Clinton wrote an inspirational letter to 8-year-old Martha Kennedy Morales, which read in part:
"While I know you may have been disappointed that you did not win President, I am so proud of you for deciding to run in the first place. The most important thing is that you fought for what you believed in, and that is always worth it."
The youngster had missed her seat as class president by one vote, and someone close to Hillary had been following Martha's dad on Facebook and brought it to Hillary's attention. 
How we fight for what we want makes a difference.