Kevin Barnett is honored by 'Rel' co-stars and others after his sudden death
Kevin Barnett, the comedian, actor, and host best known for co-creating the TV series "Rel," passed away in Mexico at the age of 32.
So far, the details of his passing have not been revealed. Ben Kissel, who hosted the podcast "Round Table of Gentlemen" with Barnett, made the heartbreaking announcement on January 22.
"It's with a heavy heart we inform you of the passing of Kevin Barnett. The joy he brought to our lives is the greatest gift we have ever received. Remind your friends you love them because you never know when you're see them again," [sic] wrote Barnett.
THE REACTION OF MORE CO-STARS
After his death became of public knowledge, several people took to social media to share their thoughts and condolences. One of them was Lil Rel Howery, the principal member of the cast.
He uploaded a photo of Barnett on Instagram with the following caption,
"I was trying to figure out what to say but I can't I'm truly heartbroken by this and just really hurt as the hours pass… So gifted and so dope and a true friend!!!! I don't know what else to say this is crazy to me!!!!"
MORE TWEETS FROM OTHER CELEBRITIES
Apart from them, Jess Hilarious and Jordan L. Jones also shared their condolences. In Hilarious' case, she shared a pic of Barnett and, in the caption, admitted to being sorry for his lost, saying that the man was "so sweet" and that her heart was broken, too.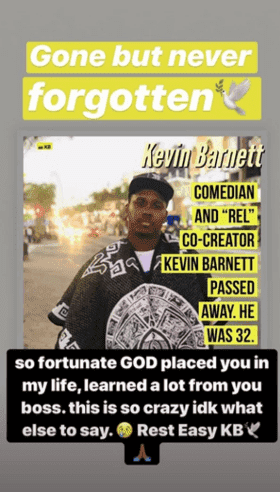 Jones, on the other hand, shared Rel's post on his Instagram story and added the caption,
"so fortunate GOD placed you in my life, learned a lot from you boss. this is so crazy idk what else to say. Rest Easy KB" [sic].
Ryan Conner, a comedian, took to Twitter to point out that Barnett's death was devastating. He described the late actor as a "great guy and the most effortlessly funny comic."
BARNETT'S CAREER
Barnett not only co-created "Rel" but also appeared on "The Carmichael Show," "Dumb and Dumber To," and "Funny as Hell." Apart from being an actor, he also worked as a writer in several projects, including Comedy Central's "Broad City," Fox's "Unhitched," "The Eric Andre Show," and "Lucas Bros Moving Co."
Born in Florida, the man had three projects in production when he passed. While two of them are still unknown, the third one is a film titled "The Wrong Missy," starring David Spade and produced by Netflix.