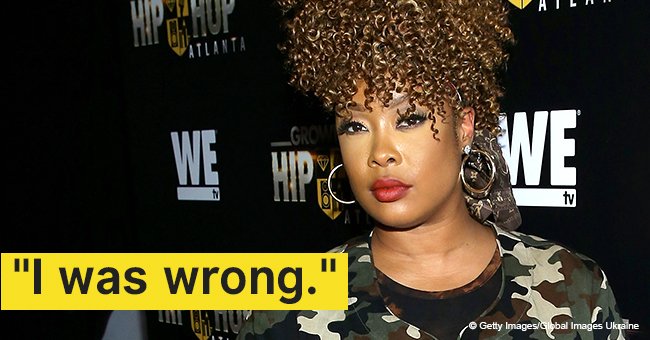 'I had to reevaluate myself,' Da Brat takes back comments on R. Kelly & apologizes to victims
After Da Brat said that R Kelly should be given the chance to explain himself after all the talk that's been going around since the release of the docu-series against him, she claims she had to "reevaluate herself" and eventually took back her comments regarding the issue.
With the topic of the controversial docu-series "Surviving R Kelly" being one of the most talked about topics in the world right now, Da Brat was asked how she felt about the issue while she was on the red carpet earlier this week. Although she stated her opinion to answer an interviewer's question, she ended up getting a lot of hate for it.
"You think you know someone, but you don't."
On "The Rickey Smiley Morning Show", she felt the need to make a statement about what she said that day, making herself clear that after watching the documentary again, her views on R Kelly totally changed regardless of their friendship.
Da Brat also clarified that she definitely does not condone any type of sexual violence, apologizing to the victims and their parents for all she said especially since she did not know what they were going through and said mere opinions in the perspective of one of the suspect's friends.
After watching the docu-series, the singer also said that it is quite painful to watch, and she does not want anyone thinking that she supports the man and his actions.
However, it wasn't always like this, and she was actually one of the celebrities who felt that R Kelly deserved a chance to explain. During the red carpet event at the Trumpet Awards, she shared her opinions with one of the interviewers. She said that although she had not watched the docu-series at that point in time, her loyalty remained with Kelly and that she will not be deleting his songs off her playlists anytime soon. She even called out the victims' parents for not knowing better and taking better care of their children.
Given that the victims were supposedly minors, she was wondering what the parents were doing when the sexual misconduct happened. Da Brat then spoke out and said that the parents are partly responsible for the vicious attacks since they were not keeping track of where their children are at such a young age.
In the end, after she realized how hurt people were after her remarks, she decided to set aside her loyalties and watch the docu-series for herself. It was there that she realized that people really were victims of R Kelly's predatory ways, and that needed her to reevaluate herself and where she stands.
After saying sorry, she now stands as one of the millions of people who believe R Kelly should be responsible for his actions.
Please fill in your e-mail so we can share with you our top stories!