Internet bursts with opinions that Meghan Markle is 'faking' pregnancy
For weeks royal fans speculated about Meghan Markle being pregnant, now about six months into her pregnancy many fans believe she is faking, and claim to have the pictures to prove it.
Prince Harry and Meghan Markle had barely arrived in Australia for their first official royal tour, when they announced on October 15, 2018, that Meghan is expecting their first child.
Fans immediately started speculating about her due date, and the sex of the baby, but the Royals have kept any additional information they may have a closely guarded secret.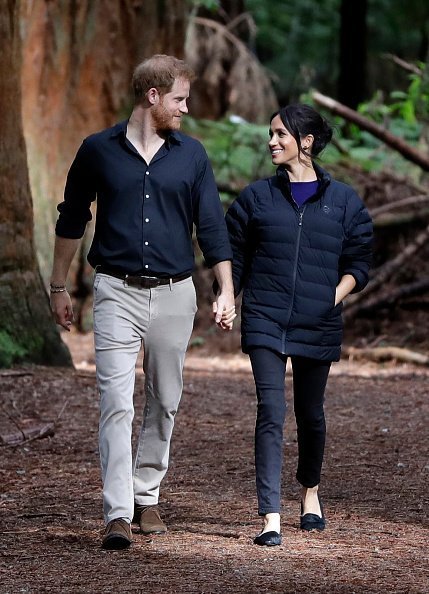 With Meghan's growing baby bump, royals supporters switched to different speculations. Conspiracy theories and claims that Meghan is faking her pregnancy is rifely spreading through the internet. Some keyboard warriors are convinced that Meghan is wearing a Moonbump to fake a baby carried by a surrogate. 
According to Moonbump's website, their fake pregnant belly's are "used extensively for stage and screen performances, advertising and retail," but also for "strengthening emotional bonds as you move forward with a planned surrogacy or adoption."
Using hashtags like #moonbump, #megxit, and #charlatanduchess, some even claim to have the evidence to back their suspicions like the following royal fank tweeted:
Others take it a step further and claim Meghan is not just hiding a fake pregnancy from the rest of the world, but also from Prince Harry and the rest of the royal family.
Reasons given by the accusers of why Meghan would go to such lengths are varied, but boil down to the claim: Meghan is lying to the world and is not pregnant.
Another theory that popped up over the internet is that Meghan's fake pregnancy is nothing but an elaborate ploy to distract the British form the Brexit debacle. Those supporting this conspiracy theory has gone as far as accusing Meghan and the Royal family of treason as the following Twitter user stated:
Vision of Meghan Markle unraveling towards collusion, conspiracy & treason speaking to her duplicitous manipulative celebrity friends about swinging the US election for @TheDemocrats underhanded hiding things from Prince Harry pretending to be naive so that she can shine brighter

— Princess Isobel Aura (@IsobelAura) August 22, 2018
All the conspiracy theorists also claim to have proof, citing photos of Meghan which supposedly show her baby bump slipping or sitting unnaturally.
Some women have pointed out that bending over and squatting the way Meghan does this far into the pregnancy, is not possible. Others also mentioned that there had been no sightings of Meghan visiting any royal doctors or obstetricians, as another royal follower pointed out with a tweet:
Some supporters who believe she is pregnant, think she may be expecting twins due in the spring of 2019. Numerous bookies even have odds on it. Betfair has the Duchess at a 3/1 chance to have twins, while Coral joined in taking bets on royal twins with odds at 5/1. Ladbrokes currently has odds at 6/1 for twins and ⅘ on a March birth for Meghan's baby.
Pregnant women over the age of 35 are classified as having a "geriatric pregnancy," as it is known in the medical world. As women get older their number and quality of eggs produced by the ovaries decrease and are more likely to have twins, according to a study performed by Vrije University Medical Centre in the Netherlands.
While netizens go over each photo with a fine tooth comb, body language experts also follow Prince Harry and Meghan Markle's body language toward each other since the announcement of Meghan's pregnancy. 
And by their observations, Prince Harry became more protective and attentive, while Meghan shows signs of being a hands-on mum once the couple's bundle of joy is born.