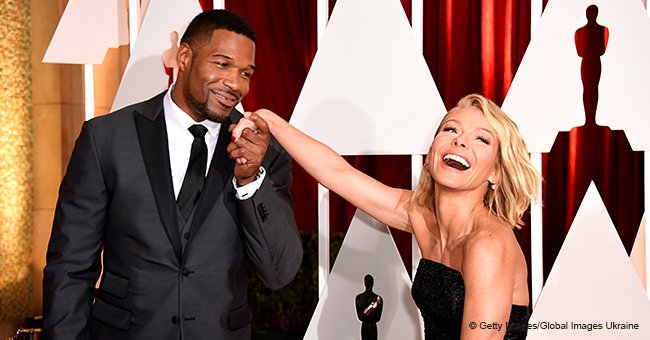 Michael Strahan opens up about Kelly Ripa friendship, reveals they haven't spoken 'in a long time'
Three years after he parted ways with Kelly Ripa, Michael Strahan opens up about their ongoing rift that stemmed from his departure.
Michael Strahan is honest to admit he and Kelly Ripa "haven't spoken" for a long time. This was the revelation he made during his recent interview with Time Magazine.
THE HISTORY OF THEIR RIFT
Things went south for the former co-hosts of "Live with Kelly and Michael" when the New York Giants defensive line-up and ABC caught Ripa off-guard with the announcement of his departure from their show in 2016.
Strahan accepted a full-time co-hosting job with ABC's "Good Morning America" which prompted him to leave the spot he took over from Regis Philbin in 2012. He and Ripa had a successful four-year-partnership in the show and appeared to have become friends. However, Ripa appeared to be the last to know of his plans to leave which became the tipping point.
After Strahan announced his plans in April 2016, Ripa went on leave for almost a week. ABC made it seem like it was a "pre-scheduled vacation" but many suspected it was her reaction to the news. Suspicions were confirmed when she returned to the show and spoke about "communication and consideration" and "respect in the workplace" in a monologue she gave. She also defended her absence saying she "earned the right" to take time off after 26 years on the show.
ABC president Ben Sherwood later admitted they could have handled Strahan's departure better.
Due to the rift that developed between Ripa and Strahan, the latter departed from their show months earlier than expected. By May 2016, he was gone.
THE AFTERMATH
Strahan confessed he was hurt by what happened and how he was pictured as the bad guy. He told People,
"The most disappointing thing to me was that I was painted as the bad guy, because I value the way I carry myself. I don't want people to see me as 'Oh, he just ran out, just left them there.' That's just not true."
Regardless, Strahan is grateful for the friendship he once had with Ripa and the things he learned from her.
"At one point I think we were friends. I don't know what happened at the end. I learned a lot from her, though."
Today, nothing has changed as Strahan admits to Time he and his former co-host haven't been in communication.
"I haven't spoken to her in a long time," he said.
Because of their tarnished relationship, he said he learned that "you can't convince people to like you."
LIFE GOES ON
Strahan currently co-hosts the third hour of "GMA" with Sara Haines. They seem to have developed great chemistry. In September, they delighted their audience with their impressive dance moves as they celebrated "Good Morning America Day."
Strahan also co-hosts "Fox NFL Sunday" and produces as well as stars in the reboot of "$100,000 Pyramid." Meanwhile, Ryan Seacrest took over the spot he vacated and began hosting "Live with Kelly and Ryan" in 2017.
Please fill in your e-mail so we can share with you our top stories!