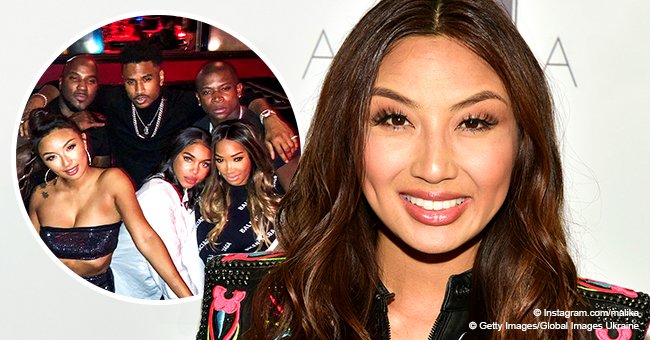 Jeannie Mai and rapper Young Jeezy spark dating rumors after posing together in a club

Jeannie Mai celebrates turning 40 with a birthday blowout and a new man in her life.
Suspicions are high that Jeannie Mai has a new man in the form of rapper Young Jeezy. The rumored couple was recently spotted on what seemed to be a triple date celebrating the talk show host's birthday.
THREE'S COMPANY
Mai turned 40 and among the important people she spent her birthday with was Jeezy. They were together at a bar along with actress Malika Haqq and her boyfriend, OT Genesis and Trey Songz with girlfriend Lorie Harvey. The three pairs were photographed together and Malika shared that snap on her Instagram along with the caption "3's company."
Jeannie looked sexy in a shiny black tube top that bared her flat tummy. She wore a pair of matching shorts as she posed alongside her two female buddies. The three men stood behind them.
ROLLING AT 40
Jeannie was also glowing during her birthday blowout at a skating rink. She shared a photo and video from the event where she's dressed in a turquoise pantsuit with a deep V neckline. She sported the same hairstyle she wore in her pic with Jeezy though there was no sign of him in her own documentation.
Jeannie appeared to be enjoying her time rolling around the rink with her guests. There was music, dancing and a lot of cake. At one point in the clip, she encourages her guests to "dance for me because good lordy, she's forty!"
In the caption she attached to the clip, Jeannie thanked her guests she referred to as "Mai friends" and alerted her fans to her new digital show, "Hello Hunnay."
"This year inspired me to start my own digital show called Hello Hunnay to celebrate all I've learned to think, look, and feel the way I do at 40. Deets coming soon..."
SINGLE AND DATING
Jeannie's happiness at 40 stems from her still thriving career and more relaxed life. It shouldn't come as a surprise that she'd also be back in the dating scene. She's been divorced from her husband of ten years, Freddy Harteis since 2016. Freddy has since moved on with another woman and recently welcomed a child with her. Jeannie is happy for him considering having children was one of the issues they had that led to their divorce. Freddy wanted them but Jeannie didn't.
KEEPING FIT
Meanwhile, Jeannie has been taking care of herself and keeping fit. She worked hard to add pounds and curves to her slender figure. Now she's happier and more confident with her body, flaunting it in photos whenever she can.
With that department covered and her career still at an upswing, Jeannie has every right to focus on finding new love, something she seems to be working on now.
Please fill in your e-mail so we can share with you our top stories!