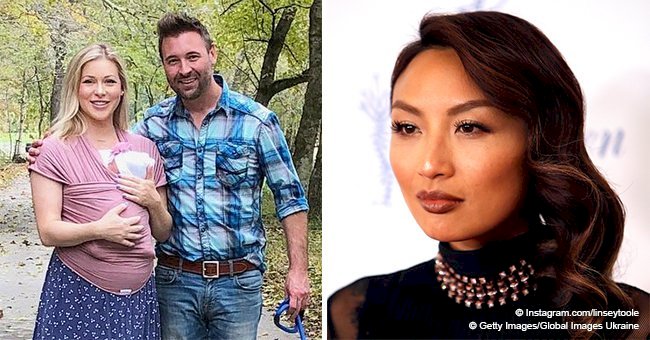 Jeannie Mai's ex-husband welcomes 1st baby with new girlfriend just 1 year after announcing divorce
Just one year after announcing his divorce from Jeannie Mai; Freddy Harteis and his girlfriend, Linsey Toole welcomed their first child together into the world. The couple shared the images below of the newborn.
Harteis and Mai had split up because he wanted children and she did not. The subject became a point of contention in their ten-year marriage.
The pair had been amicable at first, but the divorce turned ugly. Mai chalked up the nasty turn to "money" and "ego."
Six months after Mai announced their divorce, Harteis revealed his girlfriend was pregnant with his child. In an interview at the time with "The Breakfast Club," Mai implied the timing was "funny" to her and that her "The Real" family agreed with her.
BEFORE THE BIRTH:
Leading up to the birth, Toole had a baby shower, and gender reveal party thrown for her. At the party, it was announced that the couple was expecting a baby girl who they intended to name Emersyn Rose.
Toole later announced that the baby was due on October 25, 2018, in an Instagram post. The birth would come nearly a year after Hateis and Mai had announced their divorce.
THE BIRTH
While Mai might still be dealing with the divorce, Harteis and Toole were celebrating the birth of their adorable baby girl. She was born on October 25, 2018, at 9:15 PM at Saint Thomas Midtown Hospital Nashville TN.
Emmerson Rose weighed in at 7 pounds 12 ounces. She was 19 inches long. The little girl has rosy cheeks and dark eyes.
Harteis and Toole showed off their new bundle of joy in a series of gorgeous Instagram posts. Toole captioned her first post " If you don't like baby photos.... you may want to unfollow me now. Because this little angel is all, I currently care about. I shamelessly plan to continue going buck wild on the photo sharing."
Fans loved the images and flooded the comments sections with congratulatory messages. They also gushed over how adorable little Emersyn is.
"Your baby literally looks like a doll. She's so adorable." ~ @elizas.insta
CONGRATULATION MESSAGES:
Both Toole's and Harteis's posts garnered many congratulatory messages. Some from very unexpected people.
Loni Love, Mai's co-host on "The Real" sent an awkwardly worded message. She said "Everything works out for a reason … I wish you the best and welcome to the world, Emersyn Rose."
Fans of Mai immediately objected and took to the comments to call Love out. One said, "@comiclonilove woooow you're so fake! Where's your loyalty? "
Another said, referring to the Interview Mai had with "The Breakfast Club," "@comiclonilove everything works out for a reason? Wasn't @tameramowrytwo and @adriennebailon just on the Breakfast club talking about how he was cheating during the marriage? His timeline didn't add up. I'm surprised any of y'all still follow him lol."
Harteis also spotted the comment by Love. He replied with a concise, "Thank you so much."
Despite the controversy, the new parents seemed unphased. They continued posting images of them doting on their newborn.
Harteis even went one step further and offered advice to all fathers in one of his captions. He said they should strive to be their daughters first love and teach her how a man is supposed to treat her.
HIS MARRIAGE WITH JEANNIE MAI
Harteis was married to Mai for ten years. Children became a significant problem in their marriage.
May revealed in 2014 on an episode of "The Real" that before they got married, she had made it clear that she did not want nor intended to have children. However, as Harteis grew older, he realized that he wanted children.
After ten years, they eventually agreed to get divorced.
Mai might be wishing she could go back in time and avoid marrying him at all but Harteis is focusing on his new family with Linsey Toole and baby Emersyn Rose.
Please fill in your e-mail so we can share with you our top stories!