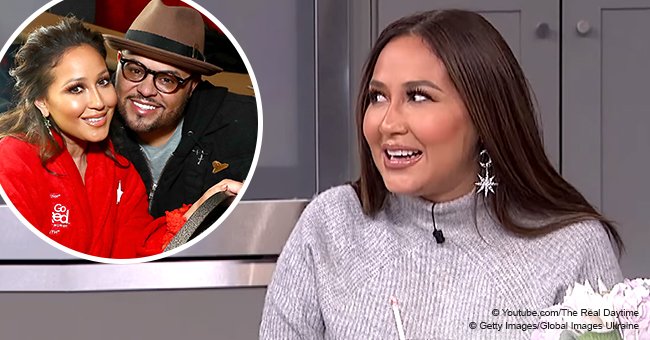 Adrienne Houghton reveals she secretly recorded husband Israel before they got married
Adrienne Houghton admitted she would secretly eavesdrop on her husband using an application on her cellphone while they were still dating. What she learned about him surprised her.
Adrienne Houghton surprised her co-hosts on "The Real" when she opened up about what she did to keep tabs on her husband when they were still dating. She revealed she would secretly record him.
SECRETS OF AN EAVESDROPPER REVEALED
In a recent episode of her show, Adrienne confessed that in her efforts to know how serious her husband, Israel Houghton was about her when they first started dating, she used her cellphone as a recording device to eavesdrop on him.
"I've been doing this for years," the 35-year-old said to her astonished co-hosts Loni Love, Jeannie Mai, and Tamera Mowry. Then she proceeded to satisfy their curiosity by explaining the process to them.
"So there's something called Voice Memo on your phone, and you can literally put it on Voice Memo, lock the phone, put it down, walk out the room, let y'all talk about me, walk back in, play it back outside the room, listen to what y'all said, walk back in and be like, 'So Tam, you would say that sometimes I talk a lot?'
"And you'd be like, 'Of course I would say that, you do talk a lot,' right? Or, you could lie to me and be like, 'I would never say that about you, Adrienne,' and I'd be like, 'bitch you lied!' "
WHAT SHE DISCOVERED THROUGH HER INVESTIGATION
Adrienne recalled the incident when she tested the method with her husband and learned the truth about Israel.
"In the car, I left my phone on Voice Memo, put it into the side thing in the car, walked out and went into a store."
"I was like, let me see what phone calls he makes. Let me see if he talks to anybody on the phone. You're just getting to know each other."
When Adrienne returned and listened to what her phone recorded, she learned her husband was the real deal.
"He was writing a worship song in the damn car. He was like, 'Lord, I love you! Jesus — Oh, hallelujah!' And I was like, 'Aw, there's nothing here.'"
Adrienne eventually confessed to Israel what she did and even complimented him for the song she heard him sing.
MARRYING THE RIGHT MAN
Regardless of her investigative ways, Adrienne ended up marrying Israel in November 2016 in a beautiful intimate ceremony in Paris, the same city where they were engaged.
Adrienne admitted after the wedding that she had "never been happier" and that she felt "peace mixed with total excitement." She was also proud of the fact that she and her husband were both "very much involved" in each other.
ISSUES WITH PREGNANCY
Today, the couple live happily in their Parisian-chic Bel-Air home hoping that one day they'd be blessed with a child. Adrienne was very open about her struggles with pregnancy and at one point asked that people be more sensitive to her plight.
"As an audience, you should be sensitive to the fact that everybody just doesn't get pregnant right away."
Adrienne brought up the issue after fans suspected she was expecting when they noticed she was putting on weight. She clarified that she wasn't pregnant despite wanting to be. However, she also explained that she has come to terms with not being able to conceive and continues to have faith that one day it will come.
Please fill in your e-mail so we can share with you our top stories!