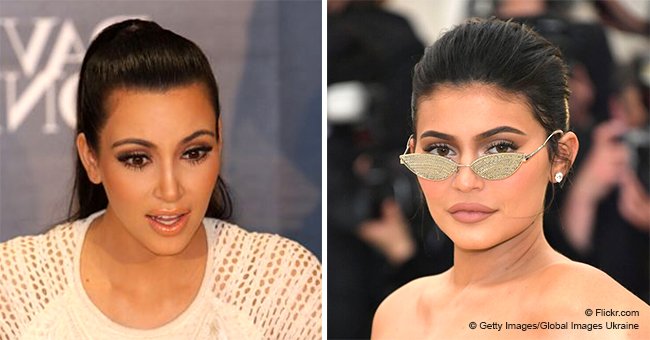 Rapper The Game sparks outrage over new super-offensive lyrics about Kim Kardashian & Kylie Jenner
The Game sparked outrage recently with his new extremely offensive lyrics talking about Kim Kardashian and Kylie Jenner.
A few days ago, The Game's new rap lyrics were leaked. The super offensive lyrics talk about Kim Kardashian.
While Twitter was in uproar over the lyrics of Kim, whom The Game allegedly dated, more of his lyrics were leaked. This time he was rapping about her younger sister Kylie as well.
In the first leak a few graphic lineserences his apparent sexual history with Kim Kardashian. However, if they did date, it was for a very short period as he was never feautured on the show, "Keeping up with the Kardashians."
The most pics theyhave together come from Paris Hilton's CD release party in August 2006. So fans can't help but wonder why he would pen the horrific lyrics describing a sexual encounter with Kim K.
The leaked lyrics were in a video posted by DJ Akademiks. In the video a group of people are sitting in a studio as he raps.
Everyone in the room looks shocked and disturbed by the line. The lyrics contain a clear and obscene double-entendre in the lyrics.
The second part of the lyrics the singer says,"Her sister made a billion on makeup / I used to make her frosted flakes when she wakes up."
Considering the supposed timeline of his apparent relationship with her sister Kim, Kylie would have been only 9 years old when they dated. Fans and internet user did not care for the disturbing inuendo in the lyrics.
Fans were horrified by the lyrics and immediately took to social media to shun the rapper. Many were shocked that a man with a daughter of his own would show so little respect for other women even if Kim was his ex.
Cali Dream is the sweet daughter of rapper The Game and Tiffney Cambridge. At 8-years-old she's almost the age Kylie would have been in the referances of her fathers lyrics.
The Game is actually a proud father of three. Cali is an aspiring model who thrives in the spotlight much like Jenner did at eight. These facts only made the lyrics even more questionable.
Please fill in your e-mail so we can share with you our top stories!