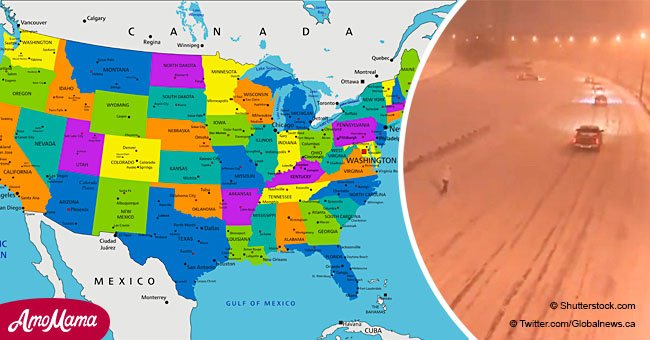 Airports cancel flights in the US due to 'life-threatening' snowstorms - over 1,200 already
"Life-threatening" snowstorms and the cold weather have left the US crippled. The country has faced numerous flight cancellations and delays.
Two-thirds of the country has been affected by powerful snowstorms that have hit the Midwest the hardest. On Tuesday, over 1,200 flights were canceled.
Tuesday also saw 1,500 flight delays as a result of the weather. Two airlines, Delta Air Lines and United, both revealed that they would waive flight change fees for passengers affected by the weather in Chicago, Detroit, and the Upper Midwest.
Currently, flight tracking site Flight Aware has reported that there were 3,919 delays. So far there have also been 2,115 cancelations.
On Tuesday, Atlanta's airport had more than 100 flights canceled. The cancelations occurred due to fear of ice making roads and freeways slippery.
The city currently has thousands of fans pouring in for the Super Bowl 53. On Monday night, Delta Airlines announced that they were "proactively" canceling flights because of a winter weather advisory.
The notice went into effect at 3 a.m. on Tuesday for Atlanta. On the same day, two-thirds of the country was frozen as the polar vortex spun frigid arctic air across the Midwest.
The vortex also affected the Great Lakes, the Ohio Valley, and it was expected to push into New England. The US will be gripped in sub-zero cold and freezing winds for the next few days.
The weather was forecast to bring dozens of record lows with "life-threatening" frost before dissipating by the weekend. A polar vortex is described as a mass of freezing air that normally spins around the North Pole.
However, it has slipped southward and swirled into the US with the Midwest being the hardest hit. The wind chill could bring temperatures that are as low as negative 50 in the Chicago area.
Wisconsin faced around one-to-two feet of snowfall while Illinois had and six inches. Alabama and Mississippi were also expected to see some snow.
People have been warned to take care when making reservations of traveling in this weather. AccuWeather warned against risks of frostbite and hypothermia.
Residents were expected to face high heating costs, potential frozen and bursting water pipes, dead car batteries, and school closures.
Please fill in your e-mail so we can share with you our top stories!