Regina Hall is on auntie duty, cradling Gabrielle Union's 'shady' baby Kaavia in heartmelting photo
Gabrielle Union's longtime friend and fellow actress, Regina Hall, recently got to hang out with baby Kaavia James, and Union shared a hilarious pic from the encounter.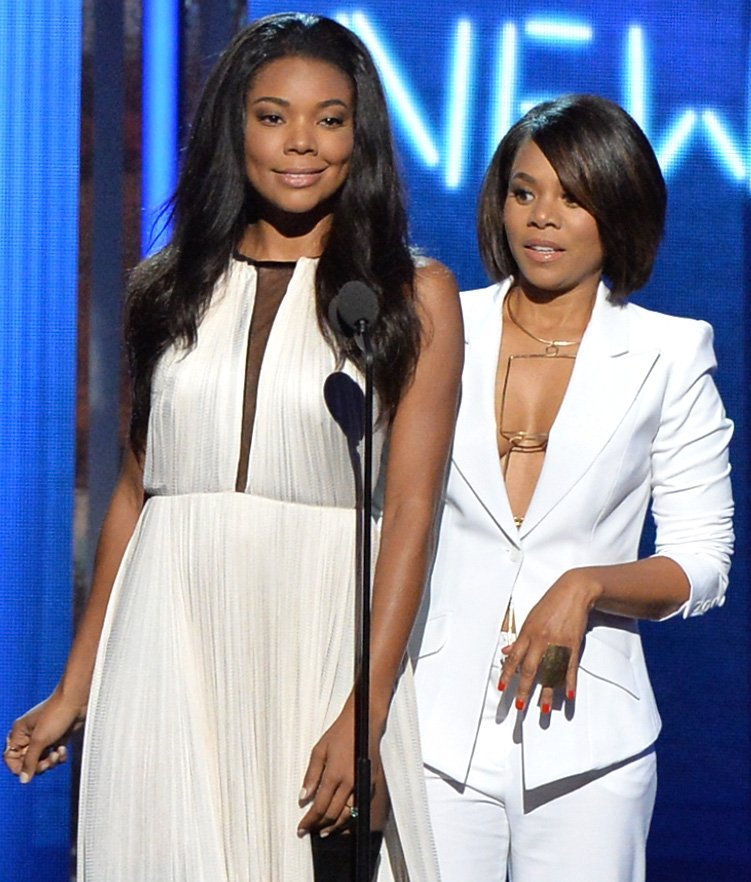 Gabby Union has people all over social media hooked to her daughter's Instagram page, and the formula for her success is simple: Kaavia James' hilarious facial expressions mixed with Union's captions filled with a dark sense of humor.
The proud mom recently posted a pic of her longtime friend, "Girl's Trip" actress Regina Hall, holding Kaavia in her arms, and while the shot proves the deep bond between the women, fans are dying over the 3-months-old facial expression on the pic.
Kaavia James, also known as "shady baby," rocked a colorful onesie with an African print, and a blue headwrap while resting on Hall's arms. The actress, on the other hand, kept her look casual with a gray sweater. And while Regina seems delighted with the baby girl in her arms, Kaavia looks totally unimpressed.
Her mom noticed right away, and came up with a witty caption for the post:
"If you ain't talkin about The Best Man 3...put me down. @morereginahall."
Fans immediately filled the comment section praising Gabby for her comedy strike and gushing about the adorable but always serious baby Kaavia.
"@shannonh2173: She's adorable with her head wrap and that expression."
"@mom_of_an_angel_plus_8: I love all of her different expressions, they make me laugh."
"@wigsbybooboo: Your captions should be a book @gabunion."
Union and her husband, Dwyane Wade, welcomed Kaavia on November 7 through a surrogate. The power couple had been trying to conceive for years, and even after 8 or 9 miscarriages, Union never gave up.
However, it was only last year that she decided to find a surrogate after Wade convinced her of giving her body a break. The Miami Heat player said on an exclusive video of the behind the scenes of Kaavia's birth:
"You know people kind of get this perception that, especially someone who is an actress or a celebrity or whatever the case may be, uses a surrogate because they are lazy. Because they didn't want to carry it, mess their bodies up. But for us when it got to the point where it was dangerous."
Wade explained on an interview with Oprah that, after watching his wife go through so much physically, mentally and emotionally, he had to step in and tell to Union that the family would be incomplete without her.
Now, the Wades are basking in the joy of parenthood, and their hilarious baby girl has become a beacon of light not only for them but also for their thousands of fans all over social media.