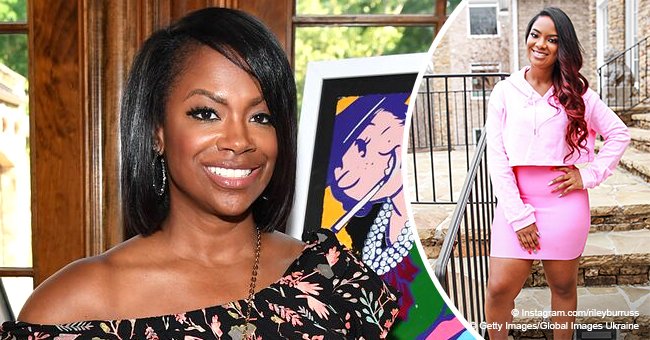 Kandi Burruss' daughter, 16, flaunts slimmer body in pink top & skirt after she dropped 50 lbs
Riley Burruss seems to be overcoming her shyness as she shares more and more with fans on social media. Her newfound sense of confidence seems to be tied to her incredible weight loss, and she recently flaunted her slim figure in an all pink outfit that left fans amazed.
Kandi Burruss' teenage daughter is growing up into a beautiful, confident lady, and she's letting the world know with her recent Instagram pics.
Once known as a shy, sweet little girl that used to make small appearances with her mom on "The Real Housewives of Atlanta," Riley is now leaving that image behind as she steps into adulthood, wearing more revealing clothes and lots of makeup.
In a recent pic, Burruss flaunted her slim figure wearing a pink crop top sweater and a short bright pink skirt that put her toned legs on display. She completed the look with long nails and slightly curly hair, as she posed outside of a building with a hand on her waist.
"On Wednesdays we wear pink," she captioned the photo.
Fans immediately filled her comment section, gushing about her fashion style and her amazing looks. Some mentioned that Riley is "looking like her momma," others pointed out pink "looks really good" on her, and one user said "You've truly come into your own!! Love it."
Riley, a high school student who plans to pursue a law degree, has been getting involved in the entertainment industry following her mom's steps. She has started making public appearances to promote products or receive awards, and according to fans, has become better at managing her celebrity child status.
She recently hosted the NFL Juniors Concert, at the Georgia World Congress Center Hall, where the 100 first people who bought a Super Bowl LIII Concert T-shirt had access to an exclusive meet & greet with her.
Riley's boost of confidence has been months in the making but certainly started after she revealed she dropped 52 lbs. by working out every day with a personal trainer after the comments from haters on social media, who used to call her fat, got a bit out of hand for her.
"I have larger goals I am trying to reach, and I hope everybody follows me throughout my journey," she wrote on a post last June.
"I've been seeing peoples comments about them struggling with weight loss. I know the struggle & its real. But it can be done. Roll with me, and let's do it together! & I just want to thank everyone for your supportive comments."
Kandi Burrus also made sure to support the girl, adding her own comment on the pic that said:
"Y'all just don't understand how hard it is to grow up in front of the public eye & in front of social media trolls who make negative comments about kids' weight. Luckily Riley has tough skin & doesn't let it bother her, but as her mom, it used to piss me off when trolls would make negative comments about her size."
Burruss also revealed that Riley has plans to help other young people that might be struggling with their weight. "Stay tuned to what my young boss has coming next!" she concluded.
Please fill in your e-mail so we can share with you our top stories!