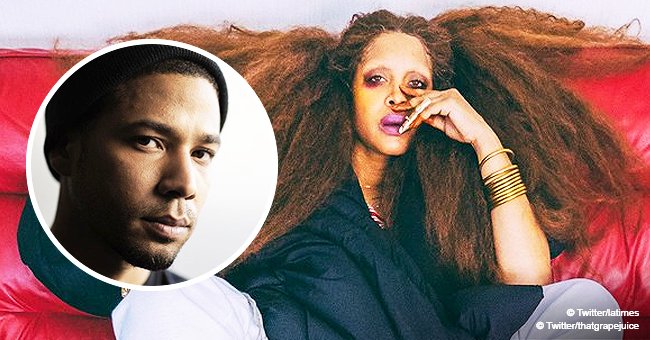 Erykah Badu forced to speak out after her disparaging tweet is assumed to be about Jussie Smollett

Erykah Badu's Twitter account has thrown her into the spotlight again. She posted a disparaging tweet and fans took it to be about Jussie Smollett which eventually forced her to speak up and explain herself.
Singer Erykah Badu has been in and out of the spotlight because of her twitter recently. From her Tweets questioning the parents of R Kelly's victims to her recent disparaging tweet, she has received massive backlash from fans.
This time, she was thrown into the spotlight this week after she posted a tweet that fans assumed was referring to Jussie Smollett. In light of the attack he endured, fans were unimpressed with her apparent insensitivity.
She had tweeted that everyone needs to wait to have all the facts before deciding the conclusion to situations. Fans were outraged.
Their response eventually forced Erykah to explain her words. She said:
"I'm used to being misunderstood. I don't mind being the problem that may lead to a solution at some point."
She went on to send love for Smollett. She added that the tweet had nothing to do with what happened to Smollett but was simply a general tweet.
"It was not in ref to my brother Jussie. This is across the Board. Period," she warned "Don't try it, fam."
She followed her explanation with a simple tweet to set the record straight. She wrote a three-word tweet that read:
"Love to Jussie."
In a final tweet, she clarified her statement saying, "I was encouraging the group to wait for the FACTS before making a sound judgment on ANYTHING. I used my situation as an example. At the same time, I received news our bro Jussie was attacked. I had already started this convo when I was alerted. The two were entangled."
Smollet was hospitalized after a hate crime in which assailants used a rope and bleach to attack him. Besides Badu, his castmates also spoke up about the situation.
Actor, Terrence Howard was one of the many Empire castmates to open up about the incident. Howard said:
"I heard he's getting better. You know, he's angry," Howard said. "But I know Jussie. Jussie's anger will dissipate and he will forgive these people for what they did. But he won't, and we cannot forget their actions. They have to be forgiven because it was done out of ignorance."
Please fill in your e-mail so we can share with you our top stories!