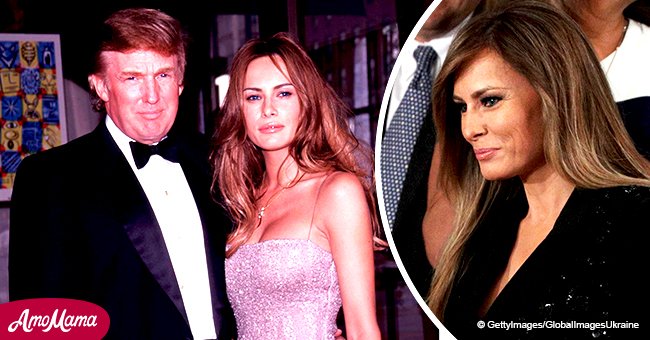 Melania confided that age gap with Trump is a huge 'turn on' in resurfaced 20-year-old interview

A resurfaced video, shown below, of a 20-year-old interview with Melania Trump, revealed that she finds the big age gap between her and Donald Trump a huge "turn on."
Melania Trump stunned fans when an interview resurfaced where she revealed what is a "huge turn on" for her. The former model had spoke about what she finds extremely attractive about her husband, President Donald Trump.
The two have an age gap of 24 years between them. Melania is 48, and her husband Donald Trump is 72.
They have been together for 20 years and share one son together. Melania and Trump first met in 1998 at a nightclub in New York City.
She was aged 28 and he was 52 at the time. According to reports, Trump had spotted the then-model and was instantly attracted to her. He apparently pursued her on the night and tried to get her number.
They eventually began dating and got married. In a 1999 interview which was featured 2017 British documentary: "Trump: An American Dream", Melania claimed she was instantly attracted to the US President.
In the interview, originally created by 72 Films for the UK's Channel 4, she disclosed that she does not notice their age difference. She went on to explain her answer.
"I don't know why, but I don't see it. Because maybe we are both so similar. The same you know, he's very young," said Melania.
The journalist then asked her a cheeky question saying, "be honest, is it a huge turn on?" Melania answered with a very simple, "yes."
She went on to reveal that they had no trouble in the bedroom even though Trump is older. Her comments are in line with claims from ex-staffer Cliff Sims.
He claimed Melania is Donald's "fiercest protector." Needless to say that when porn star Stormy Daniels and former Playboy Playmate of the Year Karen McDougal alleged that the president had an affair with them in 2006 after Melania gave birth to their only child, the first lady was reportedly furious.
An insider revealed she was miserable saying,
"She is very, very unhappy with her life. If she could, she would get away from Donald and just be with her son."
Please fill in your e-mail so we can share with you our top stories!