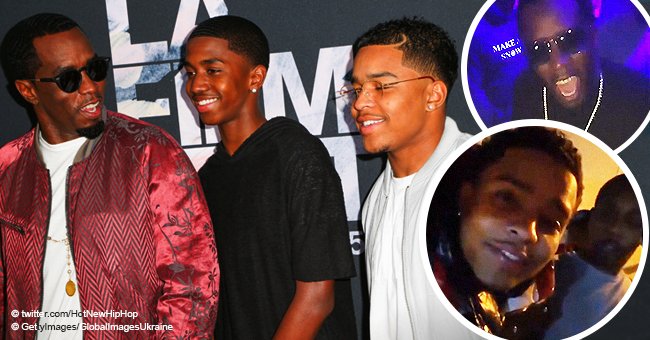 Diddy takes sons Justin and Quincy out for father-son bonding at strip club

P. Diddy caused pandemonium at a strip club in Atlanta after he showed up with his two sons and gave away wads of cash.
P. Diddy was refreshingly in high spirits Saturday night when he arrived at the Magic City Strip Club in Atlanta with his son, Justin and stepson Quincy. The rapper reportedly brought huge sums of cash which he used to spread cheer to the place.
The 49-year-old was in Atlanta to witness the return of the Super Bowl to the city the next day. But the action began that night at the club.
Wads of cash were reportedly scattered in buckets on the floor as Diddy, in a grey fur coat and with a Black Raspberry Ciroc Vodka on hand announced, "Welcome to Altanta mother[expletive]!" He would later throw money in all directions, delighting people in the venue who went wild trying to catch some of them.
Later that night as he left the place, Diddy reportedly yelled from the car, "When I'm in town, everybody eats!"
A SIGN HE'S MOVING ON
This is the first time since his ex-girlfriend and mother of his four children, Kim Porter died that Diddy has been seen on a night out. It is a good sign that the rapper has chosen to move on from his devastation over the loss.
Back in November when Porter surprised the world with her death due to pneumonia, Diddy felt like he was in a nightmare he couldn't wake up from. But he slowly tried to make sense of Porter's untimely death and swore to live for his and their children.
In December, he celebrated their twin daughters' birthday with a festive party on skates on the same weekend he paid tribute to Porter on what would have been her 48th birthday.
Now it appears Diddy is spending much-needed quality time with his son, Justin, and Porter's son from a previous relationship, Quincy. If it means partying at a strip club to ease their pain, that's totally acceptable.
GOING ABOUT HIS LIFE IN THE NEW YEAR
Diddy welcomed 2019 with a promise to dedicate the year to his children. He shared a collage of his 6 kids' baby photos and wrote,
"I dedicate 2019 to my babies. Now it's personal. I'm open for business and you're all invited ??? @quincy @princejdc@kingcombs @myfancychance@the_combs_twins SO WHEN WE TALKING BOUT BUSINESS IN 2019. REMEMBER THIS PICTURE"
Over a week later, he posted his resolve to move on in 2019. In big bold white letters on a black background, he wrote,
"I'm not arguing in 2019. I'm sending "ok" and going on about my life."
Diddy is definitely starting the year with a renewed sense of life and it seemed like his first order of business was to share his wealth with people in Atlanta.
Please fill in your e-mail so we can share with you our top stories!