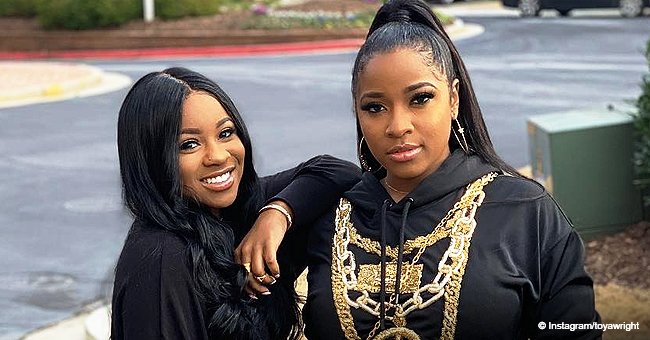 Toya Wright & daughter Reginae slammed for not paticipating in Super Bowl boycott

Toya Wright and her daughter Reginae Carter are being slammed for enjoying the 2019 Super Bowl amid some black celebrities boycotting the event to show support for ex-NFL player Colin Kaepernick.
While the mother-and-daughter duo posted photos of themselves before heading to the Mercedes-Benz Stadium in Atlanta, Georgia in good spirits, they were met with heavy criticism after they chose not to participate in the Super Bowl boycott. Their comment section was flooded with statements such as:
"@jasmine.crawford_: Y'all saints fans, and not boycotting?? still cute tho"
"@kayyl._: Us saints fans not watching the game, why are you watching/ at the game sis unacceptable"
"@_t.d_23: No boycott? Your dad is all for #kapernick [expletive]! Tsk tsk"
Toya looked dashing in a black and gold printed Moschino dress and lace-up boots, while Reginae showed off her curves in an all-black ensemble which she topped off with a pair of Fendi sneakers.
The pair wore black and gold to support the New Orleans Saints, but instead of getting praises for how they looked, they ended up getting hate for not supporting Colin Kaepernick and his cause that was supposed to help raise awareness on issues concerning their own race.
Colin Kaepernick was praised and hated for kneeling down during the National Anthem ceremonies during his games when he was still in the NFL. Him kneeling down during the Star Spangled Banner was to protest police brutality towards African-Americans. He also made the statement "America was never great," to protest the government's lack of involvement in denouncing police brutality towards African-Americans. While a lot of people thought of this as a courageous gesture to denounce police brutality and the issues surrounding the current administration, conservatives thought otherwise.
In support of Kaepernick's cause and his getting fired from the NFL due to his activism, African-Americans from all over the world have decided to boycott this year's Super Bowl to get their message across. Celebrities that have been vocal about their support include LeBron James, Mariah Carey, Rihanna, Stephen Curry, Angela Davis, Chamillionaire, and more. Amid the boycott, the Super Bowl's ratings have sunk to an all-time low this year after more than a decade.
According to the New York Post, this year's ratings are at 44.9%, 5.3% lower than last year. It was not only the lowest-rated game in ten years but also the lowest-scoring ever. In Super Bowl LIII, the Patriots won this year's Super Bowl with a 13-3 win over the Rams.
Please fill in your e-mail so we can share with you our top stories!