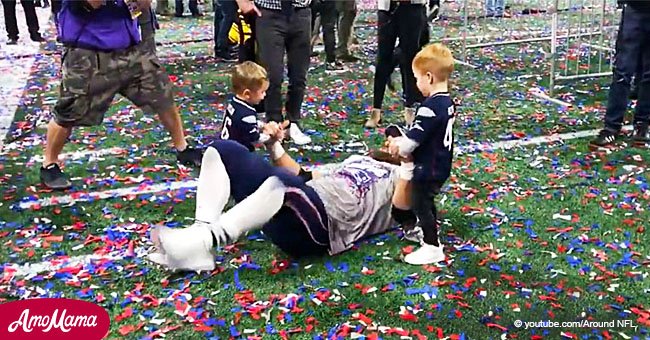 Super Bowl winner forgoes interviews only to roll around on the field with his little sons
Many athletes cannot wait to celebrate after they have won a match. Usually, this takes the form of enthusiastic interviews and parties with teammates, but one footballer decided to celebrate differently.
On February 3 the New England Patriots won the Superbowl for the sixth time. The fullback James Develin was instrumental in securing the team's winning touchdown.
Instead of chasing fame, James decided to celebrate his victory with his support system - his wife and children.
JAMES AND CO
James and his wife, Jennifer, are the parents of two sons and a daughter. They are James the second, Adrienne Mattea, and William Robert.
Both of his sons attended the match wearing Patriots' jerseys. After the game, they met their father on the field to congratulate him.
James instantly ignored the journalists and interviewers, choosing instead to have fun with his sons. He play-wrestled with them and fed them snacks.
This event was filmed and posted on YouTube where it has gone viral with over 4500 views and numerous comments.
HIDDEN MESSAGE
The Super Bowl Halftime Show is one of the most watched parts of Super Bowl Sunday, with many viewers tuning in specifically to see it. This year Maroon 5 was the act chosen to perform.
The band's lead singer, Adam Levine, caused controversy when he took off his shirt to reveal his bare chest.
The reason for this is that Janet Jackson accidentally exposed one of her nipples during the 2004 Halftime Show and received backlash for it, as there is a rule that no performers may show their nipples at the Super Bowl.
Many people criticized the organizers for being hypocrites because they allow men to show their nipples, but not women.
However, while people were in shock after Adam removed his shirt a message was displayed in the sky in the form of individual words spelled out using paper lanterns. Many people missed this as the controversy did not make them think to look up.
Please fill in your e-mail so we can share with you our top stories!