Meghan Markle catches her breath after feeling the baby kick, and the video is cuteness overload
With Meghan's pregnancy nearing its end, a special moment got captured by a fan during Prince Harry and Meghan's recent visit to Bristol.
In spite of her progressing pregnancy, Meghan has not let up on her pace, she attends a steady stream of official royal engagements, and with renovations to Frogmore cottage underway the days can get long.
Through recent months fans followed the progress of her baby bump and  Meghan as Duchess, with four patronages recently inherited from the Queen. So it comes as no surprise when a fan, who captured the sweet moment, excitedly shared the clip on Instagram.
In the video below, taken during the royal couple's latest engagement in Bristol, Meghan can be seen catching her breath as the baby kicks while the couple is in mid-conversation.
With no official word from the Royals, fans speculate that Meghan may want to give birth closer to their new home at Frogmore Cottage, quite possibly Frimley Park Hospital in Surrey,  according to a course that spoke with Us Weekly:
"It will be much less chaos and more of a private event than if she gives birth in London like Kate did at the Lindo Wing at St Mary's Hospital."
Other fans think that Meghan will go to St. Mary's Hospital in London, like Kate and Princess Diana before them. Rumors sparked when staff at St Mary's Hospital got asked not to take leave in April, as a source told the Telegraph:
"Staff at the Lindo Wing have been asked not to take holiday in April. Everyone thinks it's got something to do with the royal baby, but no one is confirming anything."
In this weeks issue of PEOPLE magazine, close friends of Meghan Markle in her pre-royal days took it upon themselves to confirm a few things regarding Meghan's relationship with her father.
Since Meghan joined the royal family, she hasn't said a word about her father or their relationship, in spite of Thomas' many public appearances and accusations against Meghan.
In many interviews, Thomas tearfully claimed he had no way of reaching his daughter. However, one close friend of Meghan told PEOPLE:
"He knows how to get in touch with her. Her telephone number hasn't changed. He's never called; he's never texted. It's super painful because Meg was always so dutiful. I think she will always feel genuinely devastated by what he's done. And at the same time, because she's a daughter, she has a lot of sympathy for him."
Efforts to patch things up after Thomas' paparazzi images and alleged heart attack, and his failure to attend Meghan's wedding, was to no avail.
According to a long time friend, Meghan wrote her father a letter after the wedding aimed at reconciliation, but in his letter of response, Thomas asked for a photo op with Meghan.
Although it seems that Thomas won't be playing much of a role in his grandchild's life for the foreseeable future, the opposite can be said of Meghan's mum, Doria Ragland.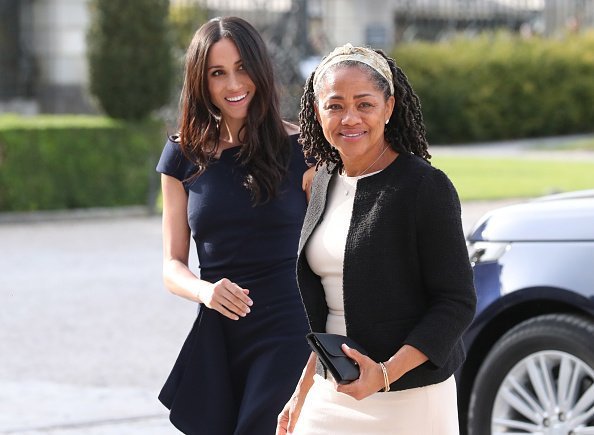 The Duke and Duchess of Sussex are known for bending royal rules to some extent, and as far as reports go, the same could be said about extra help in caring for the baby, once their bundle of joy arrives. 
Traditionally, royals make use of nannies, but according to Vanity Fair reporter Katie Nicholl, Doria is said to help Meghan settle into motherhood for the first few months after the birth of the new royal. If the kicking is anything to go by, baby Sussex is as eager to meet the world as they are of meeting the royal baby.