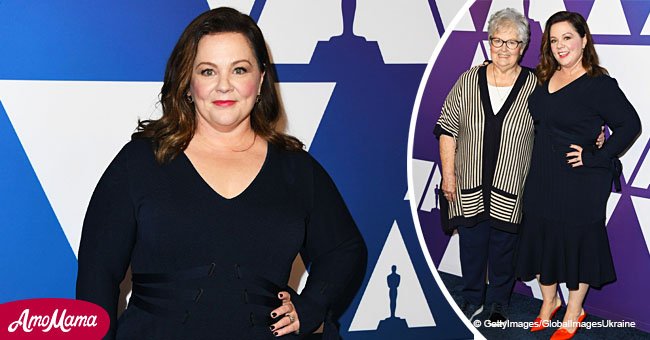 Melissa McCarthy in a rare public appearance with mom flaunts her slender figure in a navy dress
Actor and comedian Melissa McCarthy turned heads when she attended the Oscar Lunch in Los Angeles on Monday.
The 48-year-old McCarthy was accompanied by her mother, Sandra, and chose an elegant navy blue dress with V neck for the event.
The dress also featured flared sleeves, and McCarthy completed the look with orange shoes, dark nail polish and a large cocktail ring.
Her mother wore a black-and-white striped sweater over a white T-shirt. She paired it with dark slacks and a pair of sneakers.
On Twitter, one user said McCarthy looks amazing "as does her mum," while another added that she takes after her mother.
A third said they look beautiful, while another user added that the pair was "so sweet." McCarthy made headlines recently when she lost more than 75 pounds or 34 kilograms.
She had to drop the weight for her portrayal of journalist and writer Lee Israel in her latest film, "Can You Ever Forgive Me?"
Israel stole autographed documents from libraries and museums, and replaced the originals with forged copies and sold the originals.
She passed away back in 2014, at the age of 75, and was never arrested. She destroyed all evidence when FBI agents began investigating her.
McCarthy impressive weight loss can be attributed to the ketogenic diet, which consists of high-protein and low-carb meals.
With a low-carb eating plan, a person's body will burn fat rather than carbohydrates when it needs energy. McCarthy also followed a strict exercise program.
McCarthy recalled how a journalist assumed it would be hard for her to get acting roles due to her "tremendous size."
She remembers how the blood drained from her face before telling the journalist that she could "tackle him so quickly" with her tremendous size.
McCarthy also noted that only women were judged by their size in the film industry. She added:
"It's fascinating because they don't do it to men. Not to be a jerk or single him out, but when John Goodman was heavier, did anybody ever talk about his girth?"
Fans can look forward to McCarthy's upcoming projects. She was cast in the role of Carol in the film "Superintelligence."
She will also appear in "The Kitchen." Both films are in post-production and will be released later this year.
Recently, she also appeared as Detective Connie Edwards in the controversial film, "The Happytime Murders", and portrayed herself in the TV Series "The Nobodies."
Please fill in your e-mail so we can share with you our top stories!