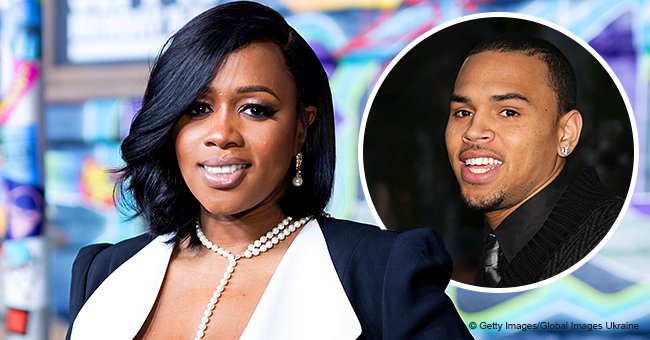 Remy Ma praises Chris Brown after he released controversial t-shirt calling rape accuser a liar
Chris Brown thanks Remy Ma for her support after she defended him from the woman who accused him of rape. She also offered to wear the singer's "This B*tch Lyin" T-shirt.
Chris Brown has found an ally in Remy Ma who publicly defended him against the woman who accused him of raping her. In fact, she was all for the T-shirt Brown released saying the woman was a liar.
WON'T STAND FOR LIARS
Remy showed her support for Chris during the fourth episode of "Revolt TV." Among other things, she blasted the unknown French woman who accused Chris, his bodyguard and a third man of raping her in the singer's hotel suite at the Mandarin Oriental in Paris on January 16.
After the woman filed a complaint, Chris and the two men were arrested but were later released, an ordeal an infuriated Remy thinks Chris didn't deserve because she believes he's innocent.
"These females that are coming out lyin. There has to be some — there are no repercussions,'Ok, he's going to sue her.' The b**ch is broke, it's not even going to affect nobody."
WILL WEAR T-SHIRT
In her effort to defend Chris, Remy even said she'd wear the T-shirt the singer's Black Pyramid company produced. The shirt bears the words "This B*tch Lyin" and she's willing to make it a part of her weekly wardrobe.
"I feel like the only thing that he can do that probably would really affect her and make her feel some type of way is to put on the shirt."
"Matter of fact, send me a shirt. I will wear the 'B*tch is Lyin' shirt every [expletive] week."
WILL ALWAYS BE GRATEFUL
Chris was appreciative of Remy's support and told her so when he reposted her interview on his Instagram.
"remyma [heart emoji] THANK YOU FOR ALWAYS BEING IN MY CORNER AND BEING MY BIG SIS!!!"
WON'T EXPLAIN, HERE TO WORK
Just a few days earlier, Chris shared an emotional video featuring footages from a video he was shooting in Paris around the time he was arrested. Through a voice-over, he says he didn't feel the need to explain himself, alluding to the accusations against him. Instead, he just wanted to do his job.
"My mom and grandma always said, 'The Lord can give you a gift and he can take it away.' And I feel like I don't have to explain any bulls**t or any like that somebody has been perpetrating… or portraying me as.."
"So, you know, for me it's like, 'all right, cool. I came out to do a job, and that's what I did. We gonna shoot this mother [expletive] video.'"
Chris's accuser detailed how the singer allegedly brutally attacked her in Paris inside a closet. Brown denied this in big bold letters on his Instagram shortly after. On January 23, the singer filed a defamation lawsuit against the woman.
Please fill in your e-mail so we can share with you our top stories!