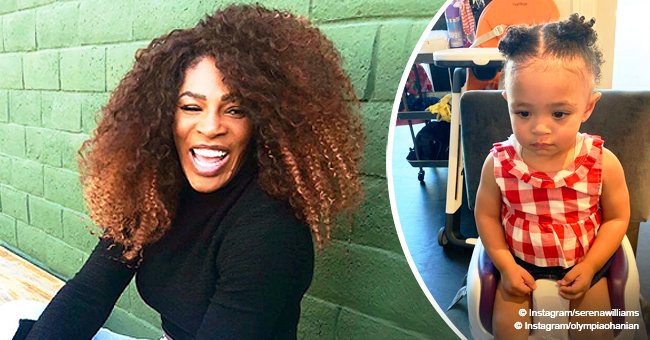 Serena Williams melts hearts with adorable photo of daughter in cute hairstyle done by mom
Serena Williams recently took to her daughter's Instagram to share a pic of her adorable hairstyle, and fans can't stop gushing about how cute baby Olympia looks. The 1-year-old is growing up fast, and Williams wants to make sure she teaches everything about being a strong black woman.
"I want her to know that being strong is never easy. Not in this world we are living in..."
Serena Williams recently tried a new hairstyle on her daughter and, to her fans' delight, shared a pic of it on Olympia's personal Instagram.
In the shot, the tot is wearing a plaid red and white top, denim shorts, and her curly hair is styled in two buns on either side of her head, as she sits on her baby chair with a serious expression. Her edges are laid down carefully, and Williams made that the focus of the photo, captioning it:
"My momma did something called "laying down my baby hair?" But she did it with a toothbrush. I have a lot to learn."
Fans took over the comment section to gush about Olympia's cuteness, with most agreeing that she's growing up too fast and others praising Williams for her hairstyling techniques.
"She's perfectly laid got the babies framing her beautiful face!" wrote one fan. Another added, "@serenawilliams you're real about using a toothbrush. I use one too," and a third one chimed in to say "You're the doll that everybody wishes they had growing up. A true legend."
Speaking about heritage and owning her black beauty with confidence, Williams recently revealed to Allure magazine that she and her sisters got that from their mother.
"I think my mom instilled in us to be confident women, to really believe in ourselves, be proud of our heritage, our hair, and our bodies. That was something that was really important for her to teach us," she said. "I'm definitely teaching it to my daughter."
Even though Olympia is only 1-year-old, she's already learning French on top of English, and Williams is making sure she raises a strong black girl that is not afraid to make the first move in all aspects of her life.
"I want to teach her that it's OK to make the first move," Serena explained on a recent interview with "Good Morning America." And continued:
"It's OK to ask and to say, 'Listen, I want a chance at being in this play. Like, put me in. Or just give me this first opportunity.' There are so many different ways to showcase that."
Williams, who started her tennis career at 14, recalled how her father didn't think she was ready at the time. She was small and deemed "too young," but she took the first step despite her father's doubts. She said:
"I knew I was ready and I made that first move, and I want my daughter to be able to do the same thing. We're taught as a society that we have to wait and be second but that's not true, we can be first. I love being first. I only like being first."
The 23-times Grand Slam champion is known for standing up against injustices and bringing light to issues in the tennis world that affect female players. Like the time she wore a catsuit in the tennis court, earning critics from officials and then prompting the Women's Tennis Association to clear the air about dress code policies.
Or when she stood up against the umpire at the 2018 U.S Open, receiving three penalizations and eventually losing against Naomi Osaka, but sparking a conversation about sexism in the tennis court.
In the two occasions, she was heavily criticized by many, but that's the price for being a strong woman, and she will teach that to her daughter.
"I want her to know that being strong is never easy. Not in this world we are living in... Standing up for yourself is not going to be easy, but it's always eventually respected," Williams said.
"Those are the people who've made a difference in this world, people that stand up for what's right. If you look at history, those are the people that you really remember. And at the time, oh, my God, it seemed impossible," she concluded.
Please fill in your e-mail so we can share with you our top stories!