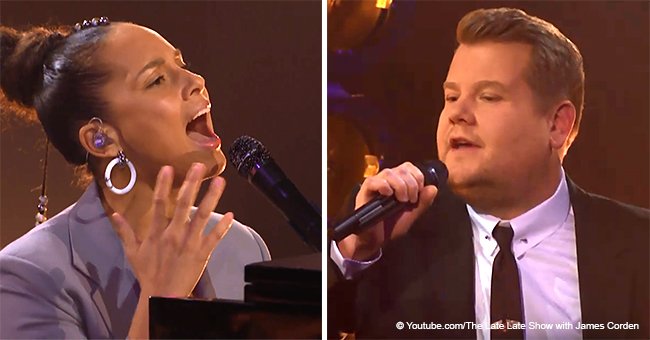 Alicia Keys & James Corden stun the audience with their parody of 'Shallow' from 'A Star Is Born'
Alicia Keys and James Corden delivered a breathtaking cover of the hit song "Shallow" from the Oscar-nominated-film "A Star Is Born" and the duo had some extra use for the tune.
During a Wednesday appearance on "The Late Late Show with James Corden," Keys asked Corden for some tips on hosting the Grammy Awards this Sunday.
Corden, 40, has hosted the Grammys consecutively for the past two years, but he wasn't about to give the "No One" singer some tips without having fun with it.
"I feel like it's the perfect opportunity to give the light back."
Keys and the comedian did a parody of Bradley Cooper and Lady Gaga's hit tune, "Shallow," with Corden delivering his advice in the lyrics.
Keys, 38, sat at a piano and played as Corden performed to the famous tune. "Tell me something, Keys. I hear you're set to host this year's Grammys," he sang, to which she replied "Didn't you host it twice? Maybe you could give me some advice."
The English entertainer dug right into it:
"Comfy shoes. After four hours, you'll find yourself drinking cheap booze."
He also told Keys to "try not to be scared; act like you've been there," and she quickly reminded him she's a 15-time Grammy winner.
Keys then asks what to do "if a speech goes long or I hate someone's song?"
"The host has to be polite," Corden stressed.
Their rendition was met with applause and a standing ovation from the studio audience.
The "Girl On Fire" singer first announced that she'd been chosen to host the 61st Annual Grammy Awards, holding on February 10, in a YouTube video.
"I'm soooo EXCITED," she raved in the caption. "There's so much in store, and I CAN'T WAIT for y'all to see it ALL come to life."
In the video that also showed reactions of her family members to the news, Keys added:
"I know what it feels like to be on that stage and I know what it feels like to be proud of the work that you've put in, and to be recognized for it. And I just feel grateful that I'm able to bring that light and that energy. This is a first. It's a first. It's amazing and I think it's perfect timing. Honestly, I'm really excited. I feel really good about it because I feel like it's the perfect opportunity to give the light back; lift people up, especially all the young women that are nominated. To me, it feels like sister vibes."
The Grammys is set to hold at the Staples Center in Los Angeles, and "Shallow" has been nominated in four categories this year. Lady Gaga is also one of the many artistes billed to perform at the high-profile event.
Please fill in your e-mail so we can share with you our top stories!