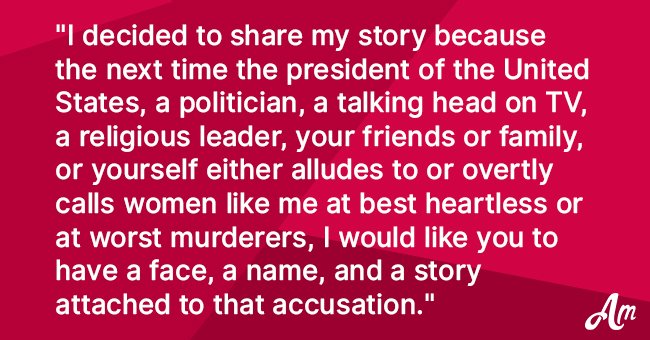 Heartbreaking story of a woman who underwent a late-term abortion

A woman, identified as Jennifer Gorman came out to tell her own late abortion story. According to Gorman, she had once undergone a late-term abortion after her baby was diagnosed with Spina Bifida, a developmental abnormality, in the cervical region of the spine.
In light of the argument over whether late abortions are safe or not, a mother is now stating her own experience with late-term abortion. Jennifer said she and her husband were told how bleak the chances of their baby's survival were. Even if the baby made it through delivery, it would have to battle with mental and physical disability all its life. In details, their baby would have to be confined to a wheelchair and most likely, permanently attached to a colostomy bag and feeding tube. Well, nobody wants their beloved child living that kind of life.
The lady recalled how hellish an experience the abortion was; From having to make the decision and break the news to their family to the point where her baby's heart was made to stop beating.
"And when it was done, I awoke to the sound of my sobs," - she recalled.
" I cried every day after for six months." - Gorman
As to the reason behind her tears, Gorman went further:
"every last tear I cried came from a place of grief. Not one of those tears ever came from a place of guilt. I made the only decision I could. I made the only choice that was right for me, right for my family, and right for my daughter."
As a mother who loved her child so much, she had to make the tough decision which was releasing the baby "from a body that would never, ever work." This decision was the very best Jennifer could make.
Despite Gorman's very private nature, she had decided to put her story out there for other women who have been in choiceless situations like hers, encouraging them to stand firm even in the face of being labeled heartless murderers.
Amidst the general controversy on late abortion, medical experts have come up to counter the concept of "late-term abortion," claiming the term is non-existent in the medical world. Dr. Barbara Levy said,
"The phrase 'late-term abortion' is medically inaccurate and has no clinical meaning."
Please fill in your e-mail so we can share with you our top stories!