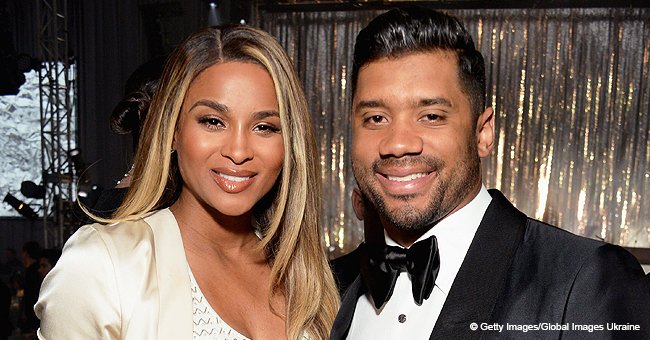 Ciara and Russell Wilson's daughter Sienna adorably cruises in pink G Wagon toy car in recent video
Russell Wilson is melting hearts all over Instagram with a video of his adorable 1-year-old daughter, Sienna, welcoming him home. The little girl was ready to go for a ride as soon as she spotted her dad, cruising on her pink toy car.
Sienna Princess is daddy's girl in a recent clip shared by the NFL star on Instagram.
The dotting father recorded the moment he stepped into his home after working out, and his daughter with wife Ciara was there to receive him.
Sienna can be seen riding aboard her pink Mercedes-Benz g wagon toy car, as her smiling nanny controls it in the background, sending Sienna all the way to meet Russell.
"Dada!" the little girl says to her nanny, while Wilson says "Como here!" and "You gonna pick me up? You gonna pick daddy up? Where are we going? Where we going, pretty girl?"
Sienna can only smile as she stares at her father in delight, prompting Russell to say "I love you," before ending his video.
"When you get home from working out, and your pretty little girl wants to go cruisin' together! #MyWorld," Wilson captioned the adorable clip.
Fans immediately took over the comment section to gush about the little girl and how much he resembles Russell.
"Too cute...SiSi said dada. She is so precious and beautiful," wrote one fan.
Another added, "You calling yourself pretty. She's your twin."
And a third one chimed in to say, "Such a beautiful baby girl she is your twin @dangerusswilson & @ciara You both are amazing parents and such a beautiful family."
Wilson and Ciara welcomed baby Sienna in April 2017, and the singer also has a 4-year-old son, Future Zahir, from her failed relationship to rapper Future.
While fans love to see Russell sharing pics and videos of his daughter, it's a whole different story whenever he shares posts of his bonding moments with step-son Future Jr.
Some people believe Wilson shouldn't be playing "dad" to Future when the boy has a "real father," and the rapper has encouraged that way of thinking with his most recent declarations about Ciara, Wilson and their way of raising little Future.
On an interview with Beats 1 in Apple Music last month, Future slammed Wilson for hanging out with his son way before he met him:
"You'd already started going around my kid when Y'all started going together, and you haven't even talked to me. And Y'all got married, and she said 'Oh I want you to meet Russell.' Why would I want to meet him now?! Y'all already did the damage!"
However, the rapper admits that having an NFL star coaching his son is not so bad, saying:
"He talented. Why wouldn't I want a championship player coaching my son? I want the best for my son."
A few days later, Future had to backtrack his comments, making sure to clarify he doesn't hate Russell and that he is "happy for them."
The 35-year-old said that the three of them have no problems against one another, and if anything, social media was the problem.
"It's a social media problem. No, I don't hate him. Totally not the deal. It was just the way we were carrying it, as far as being handled with Baby Future."
Ciara and Russell opted to answer with pictures on Instagram. The singer captioned her model post with "Rise Above," while the Seattle Seahawks quarter shared a pic of Sienna and Future Jr, captioning it: "All that matters. #Love."
Please fill in your e-mail so we can share with you our top stories!