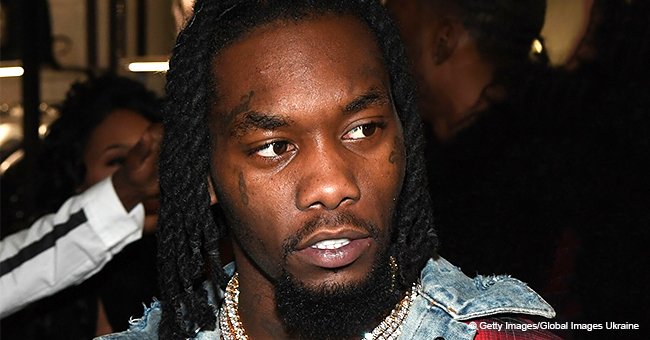 Offset claps back at Chris Brown's threats and reminds him of Rihanna assault from 2009

Rapper Offset and singer, Chris Brown are locked in a feud that saw Brown threaten Offset. However, Offset immediately clapped back and reminded him of the Rihanna assault from 2009.
27-year-old Migos rapper, Offset reminded Chris Brown and his fans about Brown's 2009 beating of Rihanna. The incident which occurred 10 years ago after a pre-Grammy party in the Los Angeles suburb of Hancock Park is particularly infamous.
His reminder came in the midst of his ongoing battle with the singer. The pair has been sharing a heated back and forth recently and Offset decided to hit back at Brown with a reminder of his past.
"Check my record and check yours only people you go toe to toe with are women," Offset said in an Instagram Stories message posted on Thursday. "Oh, and btw Ima smack the [expletive] out you when I see you!"
The rapper questioned Brown for making a scene on social media but tried to smooth the situation out via his management behind the scenes. Offset's message served as one of many warnings from him to Brown.
"I ain't really have too much rap for you on this social media [expletive], but since that's where you wanna take it tell the people why you had your management reach out to squash the [expletive]" said the rapper.
The war of words between the artists was sparked when Brown shared a meme of rapper 21 Savage. Offset had taken to the comments to share his thoughts.
"Memes ain't funny lame," said Offset triggering Brown's temper.
Brown immediately hit back with a fury. He wrote:
"[expletive] You lil boy. Better worry about what U got going and focus on you. Call me personally. U want some clout when all U gotta do is pull up. If you a real man, fight me. "
Brown has since added fuel to the fire. He has posted a slew of shots and memes. He also fumed in an Instagram Stories post where he wrote:
"If he don't get his EARTH WIND AND FIRE pootytang space suit WEARING CAPASS LIL BOY da [expletive] out my comments and off my [expletive]"
Offset eventually took to his own Instagram Stories to deliver his final blow. Brown has been making headlines recently for all the wrong reasons including being arrested after a woman falsely accused him of raping her.
Please fill in your e-mail so we can share with you our top stories!