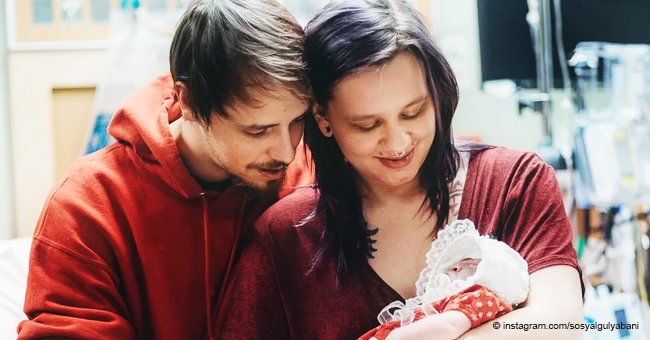 Young woman demonstrates amazing strength carrying her dying baby to term to donate her organs
A tremendously difficult situation for parents is to face news like the one received by Krysta Davis, 23, and Derek Lovett, 26, a couple from Cleveland, Tennessee, when they were expecting their daughter.
With eighteen weeks of pregnancy, the girl was diagnosed with anencephaly, a serious birth defect that prevented the formation of vital parts of their brain, skull, and scalp during embryonic development.
Although they were told that she would only survive a few hours at birth, the parents decided to continue with the pregnancy and give birth to their daughter in order to donate their organs and give life to other babies.
The little Rylei Arcadia was born on Christmas Eve and weighed 2.7 kilos. Against all odds, she lived longer than expected. She survived for a week and died on December 30.
It was very difficult for the parents to accept that they could only be with their daughter for a limited time, but they enjoyed every little moment with her and found comfort in knowing that her loss would help other families.
Krysta and Derek's decision has helped two other babies who received the heart valves and lungs of the little Rylei Arcadia.
During the week they shared together, a very special family photo session was taken by the photographer Clarissa Tilley.
"[The doctor] said babies with anencephaly don't tend to survive birth let alone cord-cutting. There was no outcome where she would be able to survive on her own for very long if at all," said the mother.
"We decided that even if we couldn't bring our daughter home, no mother would have to go through what we were going to go through." She concluded.
This story reminds us of Shelly Thomas, a manager of a Lowe's store in Franklin, North Carolina, who took to Facebook to share the sweet Santa letter she found in the store's mailbox.
A girl only identified as "Kaitlyn, FL" wrote it using green and blue crayons. In it, the girl pointed out that while several people don't believe in Santa, she did. Later, she wished for her big brother to get a kidney transplant.
One of the aspects that immediately got Shelly's attention was that, unlike most children, Kaitlyn didn't ask for a toy or something for her. Instead, she put her brother's well-being first, proving that children don't think only about themselves.
Please fill in your e-mail so we can share with you our top stories!