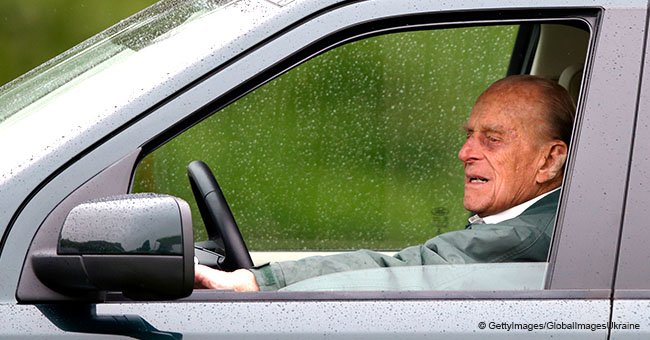 Prince Philip, 97, 'voluntarily' gives up driving license after the car accident in January

Prince Philip "voluntarily" surrendered his driving license three weeks after being involved in a serious car accident.
According to a Buckingham Palace spokesperson, the 97-year-old man "carefully" considered the decision and finally gave up his license earlier today (February 9, 2019).
As soon as the news went public, several people took to social media to share their thoughts. Most of them celebrated the Prince's decision based on the nearly-fatal accident, though some people defended Philip.
PEOPLE'S REACTION
One of them pointed out that it was about time for him to do so as he "nearly killed" a person in the January car crash. Others were not sure whether the man really voluntarily handed the license over or if it was confiscated.
"Smart move. He can still drive on private land eg Sandringham or Balmoral or Windsor estates and tbh he's best off public roads," [sic] admitted a Twitter user.
"That must have been such a hard decision to take for The Duke. I am deeply moved by his selfless generosity in doing so #Respect," shared a second person.
THE ACCIDENT
On January 17, Prince Philip crashed into a Kia and overturned his Range Rover in the process. Three passengers were in the Kia, including a nine-month-old baby who fortunately didn't sustain any injury.
Emma Fairweather, 46, was also in the vehicle and broke her wrist. Soon after the accident, it was reported that the sun dazzled the Duke of Edinburgh, so he didn't see Emma's vehicle when he hit her.
Days later, the lady got a letter with a cryptic 14-word message that read: "The Queen and the Duke of Edinburgh would like to be remembered to you." Emma told Mirror that it was not an apology or "even a well-wish," admitting that she would be glad to know that Philip felt sorry about what happened.
Despite the unpleasantness of the crash, Emma said that she still loved the Queen and the Royal family and that she would forgive them if they would apologize. However, she added that Philip should be prosecuted if "found at fault." On January 21, Philip finally wished Emma a "speedy recovery."
Even though such an accident should have made every member of the Royal family aware of even the smallest detail while in a vehicle, Queen Elizabeth was spotted without a seatbelt on while going back to Sandringham Estate from the service at St. Mary Magdalene Church.
Please fill in your e-mail so we can share with you our top stories!