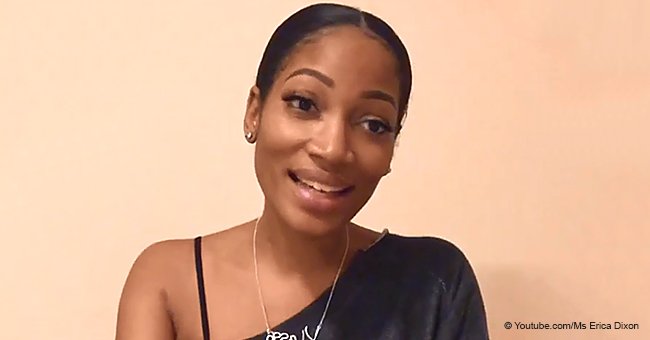 Former 'L&HH' star Erica Dixon reveals she's pregnant with identical twins

Erica Dixon opens up about her "surprise" pregnancy and reveals she's having twins. She also divulges how far along she is and what the gender of her children will be.
Erica Dixon shared a double dose of good news when she revealed she's pregnant with twins.
The "Love and Hip Hop: Atlanta" star shared the wonderful blessing on her Instagram where she posted pics of her baby bump and her gender reveal party. It was disclosed then that she's expecting twin girls.
In her caption accompanying her photos, she thanked those who supported her pregnancy and her wish to keep it under wraps.
"Blessed beyond what I deserve. Thank you all for keeping this private until we were ready to share. Thank you to @hopedahairologist who set up an amazing reveal and my closest friends and family who have been on this journey with me. The love and support been more than appreciated."
The 34-year-old who's already a mother to Lil Scrappy's daughter, Emani Richardson, likewise shared her sentiments at becoming a mother again.
"This has been a difficult yet rewarding journey for me with the sickness and scares but we've conquered and will continue to."
THE FATHER'S IDENTITY
Erica did not disclose who the father of her children is but she's currently in a relationship and rumored to be engaged. Following her exit from "L&HH: Atlanta" in 2016, she's reportedly expected to return with her unnamed boyfriend in tow.
A SURPRISE PREGNANCY
In a previously released video on YouTube she labeled "Surprise" Erica announced her pregnancy and revealed i was not part of her plans.
"This is something that I don't even wanna say kinda happened because it did….Birth control to me now at this point I'm convinced is just the devil. You know, it works for some people, others it doesn't work for."
She also reveals that she's not only pregnant but pregnant with twins and have been carrying them for 15 weeks. She also shared the complications of her pregnancy including sickness which she never felt when she was pregnant with Emani.
"This pregnancy has been really, really difficult for me. I've been vomiting up until now."
She adds that she continues to take medication to keep from vomiting but that "today is one of my good days."
A NEW VLOG SERIES
Erica's video is the first in a series of bi-monthly vlogs she intends to share documenting her journey. At the time she recorded it, she was unaware she was carrying girls and even hoped she would have twin boys. She reasoned, "I don't think I can deal with two girls at the same damn time." She adds,
"I have Emani and trust me you she is enough."
Erica ended her video by encouraging her fans to "like, subscribe, share" her vlog and inviting them to follow her in her journey.
ON EMANI'S NEW BROTHER
While Erica is expecting her second and third children, her ex, Lil Scrappy just welcomed his second child in September, a boy he shares with his wife Bambi Benson. Breland was welcomed by both parents with open arms and they made sure Emani was part of the celebration.
Scrappy shared a cute photo of the siblings the first time they met and it was pure joy. Emani has been juggling her time with both her parents and she seems to be at home in both sides. No doubt she'll also be a doting sister to her upcoming twin sisters.
Please fill in your e-mail so we can share with you our top stories!