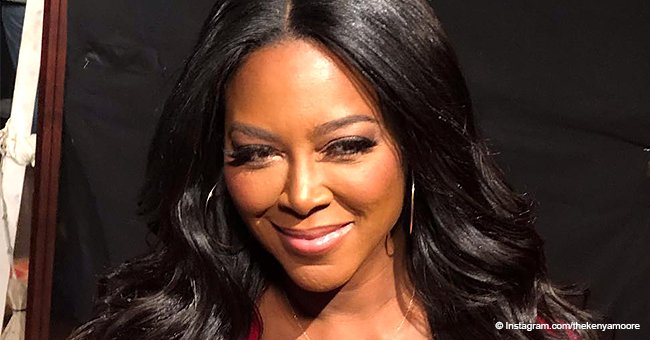 Kenya Moore steals hearts with adorable video of baby daughter showing off her precious smile
Kenya Moore's baby girl is undeniably adorable in a new video shared by the reality star, and her precious smile has fans swooning.
Since revealing her daughter's face last December, Kenya, 48, continues to update fans on Instagram with photos and videos of moments with three-month-old Brooklyn Daly.
In a recent video shared to the infant's official Instagram page, Kenya showed off her daughter's smile and even managed to engage her in a "conversation."
Brooklyn lay in what appeared to be her crib, wearing a blue two-piece with swan motif and matching socks.
"When Kenya married Marc, she never imagined she could love him more than she did on their wedding day."
"Hi! Hi baby!" Kenya said off-camera before Brooklyn broke into a sweet smile. "There's that smile," the "Real Housewives Of Atlanta" alum encouraged, zooming in the camera as her daughter grinned some more.
MOTHER-DAUGHTER TALK
Brooklyn then began to coo and grunt, as though she had something to say. As it turned out, Kenya was also ready for some mother-daughter "talk" and made the most of it, saying:
"I like your fit. Where did you get that? Really? Okay! That's sharp. The color is beautiful too."
Brooklyn's smile had social media users trooping to the comments section with glowing words. "We need brook on a TV advert that smile is priceless," said one Instagram user.
"Oh Wow! She is so pretty. How time flies. She got a beautiful smile," chimed in another.
A third fan wrote:
"She is gorgeous Kenya she looks like u the more she smiles. I love this. Blessings."
Most people believe that baby Daly looks more like her restaurateur dad, Marc Daly, and certain pictures of the tiny tot seem to prove them right.
DADDY'S TWIN
Earlier this month, Kenya shared a photo of Brooklyn at bath-time, soapy hair and all, but beyond the hilarious image, most people seemed to notice that the little one shares a striking resemblance to her father.
"She is so beautiful, she looks just like her dad," one user gushed.
Kenya, who married Marc in 2017, may not be offended by the public opinion because she's said to be falling more in love with her husband because of his relationship with their daughter.
FALLING IN LOVE
A source close to the former beauty queen told Hollywoodlife.com in December:
"When Kenya married Marc, she never imagined she could love him more than she did on their wedding day. Now Kenya has seen a whole new side of Marc since they've welcomed Brooklyn into their lives and she falls more in love with him every day."
Also, nearly two weeks after the November 4th birth of their child, Kenya penned a glowing tribute to Marc, whom she referred to as her "king."
"It all started with you... If I had not met my king I would not have become a mother to the most beautiful baby I have ever seen," she raved. I am so thankful for you. You two are my whole world. I love you, Mr. Daly."
Please fill in your e-mail so we can share with you our top stories!