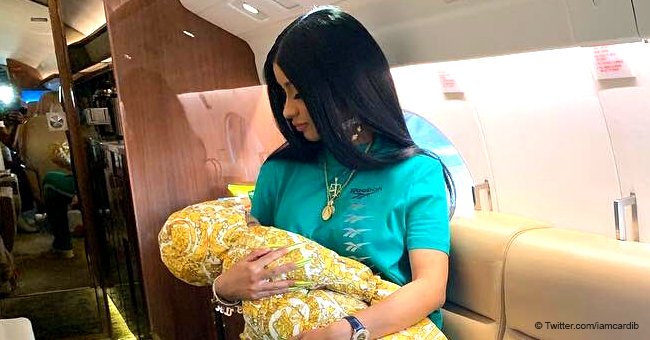 Cardi B cries with delight after seven-month-old daughter Kulture says 'mama' for the first time

Cardi B might be making world history but the only, history she cared about was made when her adorable seven-month-old daughter Kulture called her "mama" for the first time.
Rapper Cardi B made history when she became the first solo woman to win the Grammy Award for Best Rap Album. Her night got even better when she got home.
Her daughter Kulture sealed the night in Cardi's book. The little girl was waiting for her when she got home and said the word "mama" for the first time when she saw her.
The 26-year-old rapper released a video to social media early on Monday morning. In the post, her 7-month-old daughter, Kulture, is shown saying the word "mama" for the first time.
The proud parent had been anxiously awaiting the sweet sound. She noted her little one had already mastered calling Offset "papa."
"After a week of only saying papa! She saying mama!" she wrote on Instagram alongside the video. "Happy 7 months Kulture ! We love you @offsetyrn @hennessycarolina @melo9.11."
The precious moment almost matched the amazing events earlier that evening. Cardi broke through the glass barrier and made history.
Cardi is clearly a doting mama. She spoke about being pregnant while recording her album during her acceptance speech.
"When I found out I was pregnant, my album was not complete," she said. "I had, like, three songs that I was for sure having. And then, you know how it was, like, we were like, we have to get this album done so I can shoot these videos while I'm still not showing. And it was very long nights."
She went on to thank Offset, her husband and Kulture's father, for his support as well. She said,
"You, husband, thank you. Nah, serious, because he was like, 'Oh, you gonna do this album, girl. We gonna have this baby and we gonna make this album.' Thank you so much, everybody."
Besides Cardi B, Alicia Keys also had a first at the Grammys. She is the first female host in 14 years and proved she deserved the chance.
Please fill in your e-mail so we can share with you our top stories!