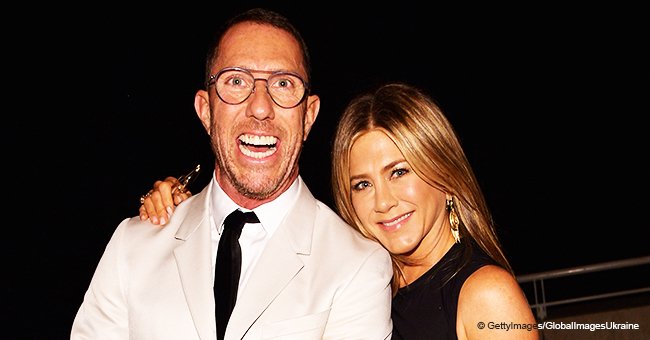 Jennifer Aniston poses topless in a rare photo while hugging her tattooed friend as she turns 50
Jennifer Aniston's BFF hairstylist shared a stunning topless photo of the actress as a tribute on her 50th birthday.
Jennifer Aniston turned 50, and her many friends rushed to congratulate the "Friends" star by posting birthday wishes on their social media accounts.
Among these is one of Aniston's nearest and dearest friends, hairstylist Chris McMillan, who shared a striking photo to commemorate her special birthday on Instagram.
"Happy Birthday Jen. To my friend. To my inspiration. To my teacher. I love this girl to the moon and stars."
A SPECIAL THROWBACK PHOTO OF JENNIFER ANISTON
McMillan, who has worked with Aniston since 1994, is the man responsible for her famous "Rachel" signature hairstyle on the iconic series, "Friends."
The hairstylist posted a throwback photo from a 2014 Allure photoshoot that shows himself and a topless Aniston hugging happily. He captioned the photo with birthday wishes, calling Aniston his "inspiration."
One of the guests no-one had expected to see at Aniston's birthday bash was Brad Pitt.
A SPLENDID BIRTHDAY BASH FOR THE "FRIENDS" ALUM
McMillan was one of the many celebrities guests gathered to honor the star at a lavish party at the Sunset Tower Hotel in Hollywood on February 11, 2019. The guest list was a who's who of Hollywood stars and included Aniston's BBF's Kate Hudson, Reese Witherspoon, and Gwyneth Paltrow.
200 A-LISTERS CELEBRATED ANISTON'S 50TH BIRTHDAY
Among the many gathered to toast Aniston's birthday were Ellen DeGeneres, Robert Downey Jr, Chelsea Handler, Sandra Bullock, Demi Moore, Katy Perry. and Leonardo DiCaprio. Aniston's second ex-husband Justin Theroux to whom she was married from 2015 to 2017 posted a photo on his Instagram account captioned:
"Happy Birthday to the fierce woman."
AN UNEXPECTED GUEST DODGES THE PAPARAZZI
One of the guests no-one had expected to see at Aniston's birthday bash was Brad Pitt, her first husband who left her in 2005 to marry Angelina Jolie.
Pitt arrived at the party at 8 pm, and apparently enjoyed the shindig enormously, leaving three, and a half hours later at 11.30pm. Pitt, who is now divorced from Jolie, left the party through the hotel's underground garage, to avoid the waiting photographers.
Fans of the once loved-up couple are hoping that reconciliation with Brad Pitt may be one of the special presents Jennifer Aniston gets for her 50th birthday.
JENNIFER ANISTON DREAMS OF A REUNION WITH "FRIENDS" CO-STARS
Jennifer Aniston opened up on "The Late Late Show" with James Corden in December 2018, and shared a cherished dream of reuniting the "Friends" cast.
"I fantasize about it. It really was the greatest job I ever had. I don't know what it would look like today, but you never know. So many shows are being successfully rebooted..."
She revealed that the "boys" aren't keen on the idea, but that she'd love to do a new version of "The Golden Girls" with Lisa Kudrow and Courteney Cox, recreating their "Friends" characters. We look forward to the show.
In a related story, Jennifer Aniston reveals plans for a 'Golden Girls' remake with her 'Friends' co-stars and which character she wants to play.
t the bash. The former couple split in 2005
Please fill in your e-mail so we can share with you our top stories!