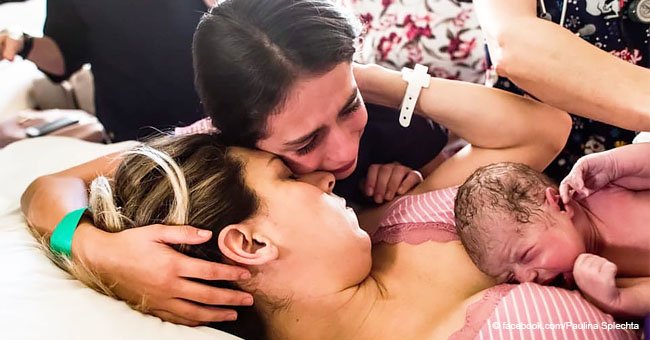 Mother allows 10-year-old daughter into operating room to catch her newborn sister

Miracles exist and come to the world in the form of babies. In this exciting story, it is corroborated that the love between siblings is one of the greatest there is in this life.
The birth of a human being is one of the most splendid situations that a family can experience. For this reason, Paulina Splechta has been dedicated for four years to document these wonders of life with her camera.
One of the deliveries that have most excited her is that of the Cook family, where the mother, who was to have her third child, decided to involve her oldest daughter, a 10-year-old, to receive her sister Kate.
The delivery, which took place in Boca Raton, Florida, was captured in a series of images that the photographer later posted on her Facebook account. Thus, she managed to immortalize in these snapshots the beauty of sisterly love.
The media reports that when Catherine Cook told her daughter Kayla that she would be present at the birth of her sister, the girl was very excited and accepted with all the pleasure.
"In the first moments when Kayla caught her little sister, while midwife, Laurie Gibbons, made sure that the baby was delivered from the hands of the eldest sister Kayla to the hands of mom, everyone was very excited," she explained.
The photographer, who has been doing this beautiful work for four and a half years, expressed that it was the sweetest moment that left her breathless, as she could witness a love so pure among two sisters gathered for the first time.
After uploading the series of photographs at the birth of little Everly, it received almost 20,000 "likes" and reached more than 2 million users.
"I think this birth resonated with many people because it is rare to see a child during labor, especially actively participating in the welcoming of the baby," Splechta said.
What she liked most about the images was Kayla's emotional response, because for her "it was incredibly moving".
The photographer expressed that Kayla's reaction was so deep and full of emotions that that was what helped her bring authenticity and vulnerability to all who appreciated the images.
She emphasized that no one pressured Kayla to participate in the experience and that she was "very excited" to have grabbed her little sister.
However, the mother had opted to have an uncomplicated delivery, but when forced labor began, the 10-year-old girl left the room for a minute, because she was worried about her mother's condition.
As she approached the moment of the birth, Kayla became very nervous and was not sure she could catch the newborn, so her father offered to help her. There it was that the girl felt the confidence to carry out her mother's desire.
"Just as Everly's baby head began to peek out, Kayla looked several times back and forth between her little sister's head and her mother's powerful face, her various expressions turning into huge smiles and finally, after that her sister was on mom's chest, letting out a cry of joyful relief."
For Splechta, this birth experience was incredibly powerful because she wanted her daughter to be present at the birth of her last child, but she could not realize this plan due to an unexpected cesarean.
"From that experience, I was hoping that one day I would capture a birth story for a family that wanted their eldest son to be present at the birth of a new baby that came into their lives," she said.
HOPE: THE LAST THING TO LOSE
A family from Arizona that had a hard time having their second child was the Davis family, who after becoming parents with little Brooke, experienced three losses, which left their hearts quite affected.
But this was no reason to desist from the idea of giving a brother to the three-year-old girl, who after several failed attempts was very sad.
Finally, on the fourth attempt, joy came to the Davis house on January 3, 2016, when Ellis was born and her bond as sisters was "immediately unique."
BIRTH THAT BEATED RECORDS
In Indiana, a brave mother gave birth via C-section to her not so small baby, who weighed nothing more and nothing less than 16lb, a figure that beat all the records.
Whitney Hallett, 28, gave birth to a baby boy, Waylon Cole, via C-section who weighed the same as a typical six-month-old baby.
The woman was expecting a big baby after she was diagnosed with gestational diabetes, a condition that can cause the baby to grow, but she received a big surprise when she gave birth to her son.
Please fill in your e-mail so we can share with you our top stories!