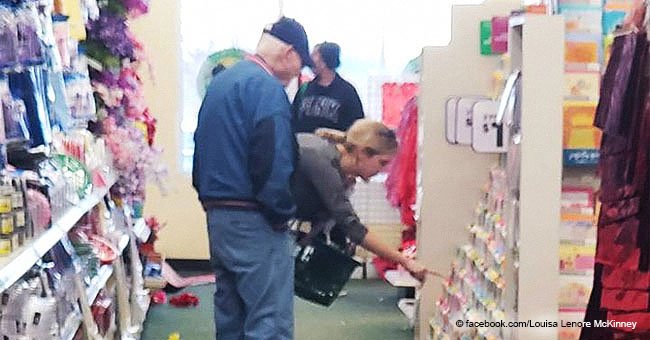 Woman shares a tearful story about an 85-year-old man she met at Dollar Tree
Sometimes we just need to witness an act of kindness between two people to restore our faith in humanity again.
Louisa Lenore McKinney was shopping at Dollar Tree in Lakeland when she witnessed one such act that brought a tear to her eye.
McKinney was on the hunt for wrapping paper when she overheard a conversation between an elderly gentleman and another shopper.
The man had asked a woman if she could help him pick out a birthday card. She then asked him who the birthday card was for.
The elderly gentleman said: "It's for me, if I wake up tomorrow, I'll be 85."
McKinney overheard him say that his wife wanted to buy the card for him, but she's bedridden and cannot make it to the store. He added:
"I want her to know I got a birthday card from."
He then recounted their life story, telling the friendly shopper how him and his wife and shared a lifetime together.
They met when they were children and tied the knot when they were teenagers. They built a family, and she supported him during his military service.
McKinney told her followers that it was the "picture of love you only read about," and said she began to sniffle halfway through his story.
She explained: "I felt so privileged to get to hear this conversation. Melted my heart. Hope you all enjoy."
McKinney also thanked the anonymous woman for listening so patiently to every word and for offering her assistance with the birthday card purchase.
She overheard the woman telling the man that she and her husband owned a local restaurant and invited him and his wife over for a meal when they are able.
Sometimes the best stories are found in store aisles. Back in 2017, a Walmart employee stopped scammers from robbing a customer.
Cecil Rodgers, a pensioner from Cincinnati, wanted to send $2,300 to his grandson in Maryland who allegedly needed the money desperately.
The cashier, Audrella Taylor, refused to assist him as she was aware of the wave of crime directed at unsuspecting senior citizens.
Rodgers followed her advise and contacted his grandson telephonically, only to learn that the college student was fine and not in any financial trouble.
Taylor's manager commended her for her quick-thinking and is very grateful that the elderly of their community has such an attentive Walmart clerk looking out for them.
Please fill in your e-mail so we can share with you our top stories!