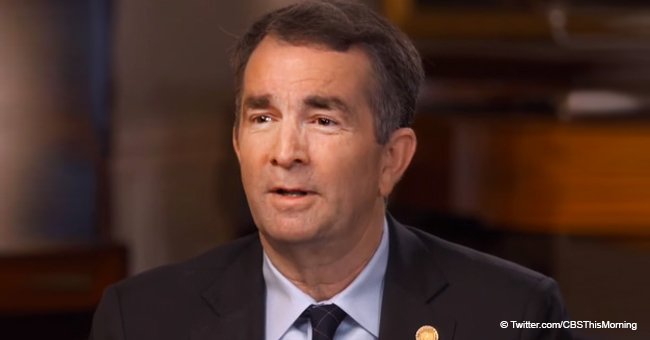 Virginia governor embroiled in blackface scandal calls slaves 'indentured servants' on camera

Governor Ralph Northam is once again in the black book of the media and the Democrats after he insensitively referred to slaves as "indented servants" during an interview with Gayle King.
Earlier this week, Northam was on CBS This Morning, and the interview went sour when the governor attempted to redeem himself for his racist past.
As if being involved in a racist scandal that had prominent people call for his resignation from office isn't enough, Ralph went on to add salt to injury.
The Virginia Gov. Northam doesn't seem to be getting off his blackface scandal anytime soon. The democrat digs deep into his controversies as he calls the first Africans "indentured servants."
In the US, racism has been in existence since the colonial era. The Whites have been known to have better access to sanctioned privileges, legally and socially.But in recent times, people stand up against inclined racial opinions and their carriers. The anti-racists community are so sensitive; they don't take it lightly with whoever, not even the POTUS.
Ralph S. Northam, the 73rd Governor of Virginia, finds himself jumbled in some controversies for making a remark considered "racist." Before this, Northam was trolled for having a racist photo on a page of his medical school yearbook. The picture featured two men - one dressed in blackface and the other in a Ku Klux Klan robe.
In a sit-down interview with CBS on Sunday, the show host raised the topic of his scandal and Northam's reaction to it so far. The Governor repeated his determination to stay in office, despite what people say about the photo printed on his yearbook, with hopes of healing racial wounds.During the interview, Gov.
Ralph Northam made another remark which is as good as "shooting oneself in the legs."CBS This Morning shared on Twitter a post showing Northam refer to the first Africans to land on Virginia shores as "indentured servants."
"We are now at the 400-year anniversary — just 90 miles from here in 1619. The first indentured servants from Africa landed on our shores in Old Point Comfort, what we call now Fort Monroe," Northam said.
CBS News host, Gayle King, cut him off at that point and subtly inserted "also known as slavery."
According to Daily Mail Online, the embattled Democrat came up to defend his poor use of words. He blamed it on a historian from whom he claimed to have gotten the phrase "indentured servants."
Northam went:
"A historian advised me that the use of indentured was more historically accurate – the fact is, I'm still learning and committed to getting it right." People reported that the public was displeased with the Governor's remark and he wasn't spared on social media.
@julissaarce commented:
"Words like "Indentured servant" is how people try to erase the pain and horrors of slavery. It is how they think it harmless to wear blackface. @RalphNortham is done. If he wont resign, he needs to be forced out."
In the 59-year-old governor's defense, he is still learning and trying to get better every day.
Please fill in your e-mail so we can share with you our top stories!