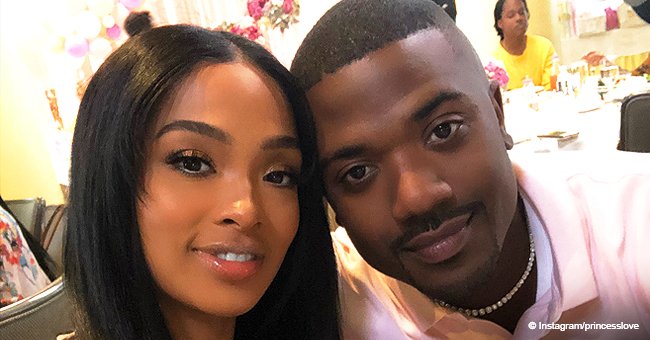 Princess Love shares photo of baby daughter in red bib & matching tutu on her 1st Valentine's day

Princess Love, the wife of R&B singer Ray J, took to Instagram to share a photo of her daughter, Melody, celebrating her first Valentine's Day.
In the image, the baby appeared wearing a white onesie, a red tutu, and a matching bib that read, "My first Valentine's Day," with a little black arrow through the word "Day."
Apart from her lovely outfit, the aspect of the post that attracted more attention was Melody's face as she was looking at the camera flashing her beautiful smile. For the caption, Princess love wrote, "My Valentine," next to a red heart emoji.
As soon as the proud mother uploaded that pic, her followers took to the comment section to share their thoughts.
"This lil' girl has Ray J's whole face," [sic] admitted one user.
"This little baby girl is a gift from God! She is so beautiful! Always looks so happy!" pointed out a second follower.
"She is one of the reasons I changed my mind to give motherhood a chance at 40 lol. Thank ya'll both for sharing your journey with us all," [sic] shared another person.
Melody is Princess Love and Ray J's first child. She was born on May 22, 2018, and she has been melting people's hearts from the very first time she appeared on her parents' social media accounts.
MELODY STANDING UP
Recently, Princess Love uploaded a video showing her daughter kneeling in her see-through cot while wearing a pink, white, and blue onesie. As the video continued, Melody slowly stood up helping herself with the walls of her bed.
Once she was on her feet, she started jumping and laughing while her proud mother recorded every moment of it. For the caption, Princess Love wrote, "she just starting crawling 3 days ago, now this," followed by the hashtag "8 months."
THE PARENTS GETTING BACKLASH
Even though several people enjoyed watching Melody fulfilling another milestone, some others set clear they were worried about the cot, which might hurt the girl.
People had previously shared their thoughts in a video that Ray J uploaded, saying that the girl could trip and hit her face with the corners of the bed. Another follower noticed that the walls of the cot were hollow, so Melody could accidentally put her leg in and get trapped.
So far, any member of the family has said anything about the so-called "dangerous" cot. One thing is sure, though, the couple has enjoyed every minute of parenting, and a post that Ray J shared is proof of that.
The man was playing a little toy keyboard while doing so, but his daughter, who was sitting on Ray J's lap, looked at him completely uninterested. At some point during the clip, Melody even gave Ray J a little side eye.
Please fill in your e-mail so we can share with you our top stories!