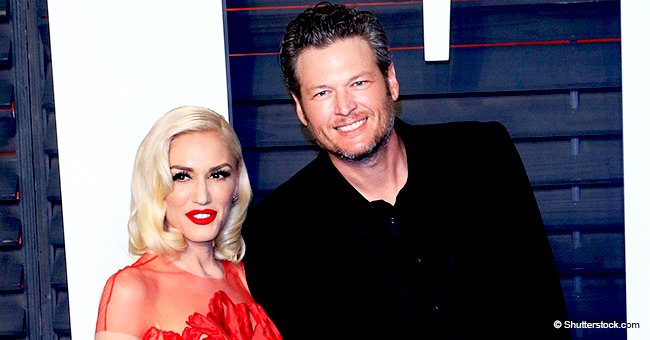 Blake Shelton shares sweet and delicious Valentine's gift from Gwen, and he can't stop smiling

Blake Shelton received a sweet gift from his girlfriend, Gwen Stefani, and their fans are excited about how happy they are in their relationship.
Through a publication on Instagram, the pop singer published a series of three images to honor her love relationship with the famous country music singer. Although his Valentine's gift was not very elaborated, it is simply adorable.
"Happy Valentine's Day to all!" Shelton wrote on his Instagram account showing his followers a photo of a giant cookie with the words "Gwen Loves Blake" written on it. "I hope you have a [Gwen Stefani] in your life," he commented later on Twitter.
In a photo, you can see both Stefani and Shelton smiling towards the camera. Judging by the "Turnin 'Me On" singer's hairstyle, the couple of lovebirds seem to have woken up just moments before.
Another image shows the huge cookie with the dedication written in red and white glaze, and in a third image, Stefani appears lovingly watching Blake while he throws a silly look at the camera.
This lovely couple started dating a few years ago after meeting while they were part of the group of coaches of the TV show The Voice in 2015. Although there have been many rumors of marriage, neither of them has announced that they intend to get married.
Although the couple does not plan to walk to the altar, they have shown themselves to be deeply committed to each other. Shelton has even become a father figure of Stefani's three children with her first husband, Gavin Rossdale.
"I'm at a point in my life where time is as valuable as anything, and having it with my family and with Gwen, and her kids," Shelton added. "What's important to you at this age starts to change. I've had my time, and I'm so lucky and I'm so grateful for it."
The truth is that Shelton has proven to be an extraordinary man with his family and loved ones, as well as with the rest of the people with needs whom he has tried to help in so many ways.
One day before Valentine's Day, the singer was recognized in Nashville for his philanthropic work. Shelton received the Artistic Humanitarian Award 2019 for his continued help work to raise millions of dollars for children's hospitals and victims of tornadoes and floods in Oklahoma, among many other causes.
The music power couple has been going very strong for three years, and we can't be happier for them. In a recent post on her Instagram, the pop singer decided she was going to do some teasing.
She posted a major throwback picture of her country star boyfriend; the image seems to have been taken in the early 2000s. The handsome star is pictured smiling into the camera, his long curly hair was let down, and he wore a cowboy hat.
Please fill in your e-mail so we can share with you our top stories!