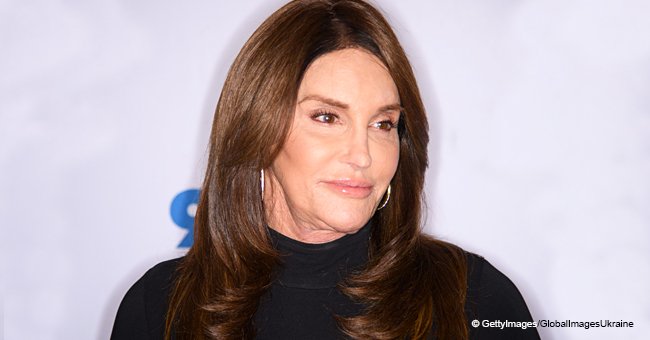 Caitlyn Jenner welcomes 7th grandchild, and the first sweet photo is just cuteness overload

A beaming Caitlyn Jenner shared the happy news of the arrival of William Behr Jenner, her seventh grandchild on Sunday.
Newborn William is the second child of Burt Jenner and this girlfriend, Valerie Pitalo, and already crept into everyone's hearts. Grandma Caitlyn couldn't help but visit and took some sweet snaps, which she shared on Instagram.
Caitlyn shared two pictures with the caption:
"Welcome to the world, William Behr Jenner. Congratulations @burtonjenner and @valeriepitalo !! Love you guys."
The newborn's name may be a play on handing down the family name, as Caitlyn, who came out transgender in 2015, was born William Bruce Jenner. Burt, the proud new father, spoke with Esquire shortly after Caitlyn opened up about being transgender and said:
"I'm very excited [about Caitlyn's gender affirmation]. Part of me was screaming to say, 'Hey, I've known for 25 years, and I've always been supportive!' I always will be. Before I was allowed to tell anybody, or before my dad even knew that I knew, I went and marched on behalf of Prop 8 through the streets of Los Angeles. I've always tried to be an outspoken supporter of the LGBT community."
Shortly after William's birth, 40-year-old Burt proudly shared an Instagram video which included Bodhi, the 2-year old big brother to William, as he cuddled his new brother.
Before Caitlyn came out as transgender in 2015, she got married three times, firstly to Chrystie Scott, with whom she had Burt and Cassandra Marino, 38. The couple was married from 1972 - 1981. Caitlyn is also grandmother to Marino's three children.
With ex-wife Linda Thompson, Caitlyn has sons Brody, 35, and 37-year-old Brandon. With her last ex-wife, she had all girls, Kylie Jenner, 21, and Kendall, 23.
Brandon has a three-year-old daughter, Eva James, with Caitlyn's other grandchild being Kylie's daughter Stormi, who had her first birthday on Saturday, February 10.
Grandma Caitlyn wouldn't miss Stormy's first birthday bash for the world and posted a video while en-route to the celebrations. As a caption, Caitlyn added:
"Hi. Heading over to Stormi's first birthday. Boy how time flies It seems like just a minute ago I was putting on Kylie's first birthday. And then off to the Grammy pre-party. Should be fun."
Kylie Jenner threw a lavish bash with children's rides and a surreal and scary inflatable baby head that greeted guests.
22-year-old Sophia Hutchins, a close friend to Caitlyn, joined her for the celebrations and were up for fun and games as Caitlyn posted pictures and video's of them enjoying fun activities with the kids. She captioned the happy memories:
"Beyond proud of my amazing daughter for all of her accomplishments, but especially proud of what an amazing mom she is to her little girl! And what a great birthday party!! Happy first birthday Stormi!"
Brandon Jenner is not one of the family frequently in the news, but mum Caitlyn couldn't help but gush over his latest singing performance in Malibu recently.
Please fill in your e-mail so we can share with you our top stories!