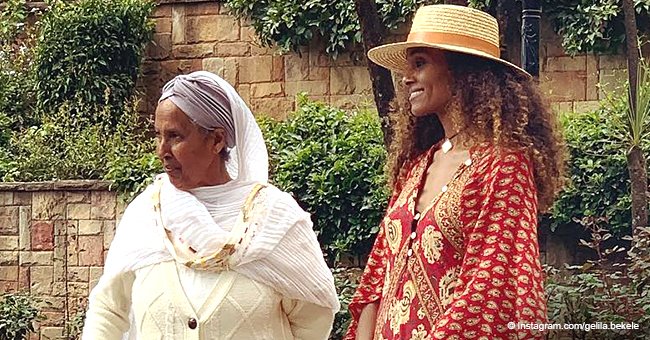 Tyler Perry's longtime partner turned heads in flowy dress in photo with grandma while in Ethiopia

Tyler Perry's longtime girlfriend Gelila Bekele went on a recent trip to Ethiopia and shared stunning photos of her trip. The most striking photo of them all was one she had with someone whom she holds dear to her heart, her grandmother whom she visited during her vacation.
The Ethiopian model never forgot her roots and has been taking trips to Ethiopia through the years. Her most recent one shows photos of her strutting her stuff in different areas in her country, and it's proven why she's one of the most in-demand models in America today.
In her heartwarming photo with her grandmother, the Ethiopian model wore a beautiful flowy red and yellow dress. She accessorized this with a straw hat that matched her surroundings perfectly and gave her look an added tropical touch.
Right next to Gelila, her grandmother stood happily with the help of a cane, wearing a white and yellow ensemble. She captioned her photo saying "my Grandma (Aman's great-grandma) #GodisGood." Their sweet reunion sparked joy for Gelila, and her followers shared nothing but praises for the lovely pair.
"@laurenbrewton: The Smart, Beautiful and Strong Bekele women! @gelila.bekele"
"@foxyprod: I [see] where your beauty comes [from]. Blessings!!"
"@1nathuey: @Gelila.bekele.... Oh Love. This is All Things. Family First and Forever!! Blessings to you and Aman always."
Tyler and Gelila's Relationship
Although Tyler and Gelila have been together for quite a while, they have been extremely quiet about their relationship. In fact, in the years that they've been together, little is known about them, except the fact that they have a son together.
While they haven't shared anything about a possible marriage between them, a post made by Grammy Award winner Stephanie Mills might have hinted that Tyler Perry and Gelila Bekele tied the knot in secret. In a photo she posted with the couple, she shared the caption:
"Tyler Perry, his lovely wife, Gelila and I at The Tyler Perry Cast Party in Atlanta GA."
It is unclear whether she assumed they were married because of their long relationship together, or because the couple actually revealed themselves to be married to one another.
Nonetheless, the lovely couple has remained strong through the years and share a son named Aman together whom they welcomed in 2014. Even after five years, little is known about Aman, as the couple has tried their very best to keep him out of the spotlight for his own safety.
Despite him being away from the spotlight, his parents often mention him in interviews, and even Instagram captions, but they've never shown his face.
Last year, Tyler even shared that one of his "daddy duties" included watching Aman's favorite show again and again, which was "Paw Patrol." Despite the director's busy schedule, he makes sure to find time to watch "Paw Patrol" with his son, and this was what they used to bond with one another.
Please fill in your e-mail so we can share with you our top stories!