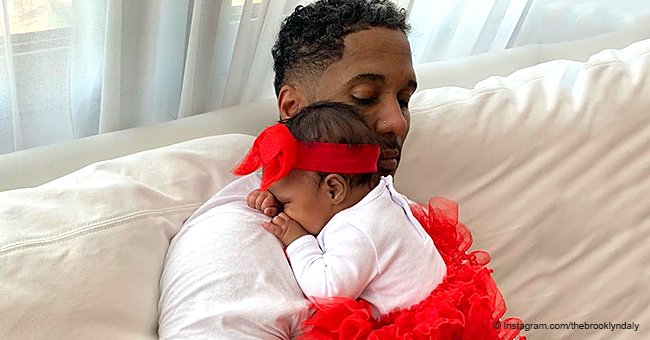 Kenya Moore's baby steals hearts in red tutu & matching bow, resting on her 'Valentine' in new pic
Kenya Moore's daughter, Brooklyn Daly, was not left out of the recent Valentine's Day celebrations, showering her "Valentine" with love. The three-month-old tot also made sure to do it in style.
Kenya's adorable baby girl is a breath of fresh air. If you're in doubt, ask the more than 50,000 Instagram followers who are gushing over her latest photo in celebration of love.
The former "Real Housewives Of Atlanta" star, who manages her daughter's Instagram page, shared a picture of Brooklyn and her dad, Marc Daly. Marc and Kenya tied the knot in 2017.
Kenya, who had wanted a child for the longest time, shared some encouraging words.
The restaurant owner wore a white t-shirt as he lounged comfortably on the couch while holding baby Brooklyn. The three-month-old looked cute in a white top and red tutu with matching headband and glittering shoes.
"Me and my Valentine," read the caption of the heartwarming image.
Brooklyn's fans turned up in the comments section of the post to gush over the father-daughter love:
"This page brings me nothing but joy! Brooklyn is a lucky girl! #TheDalys" ~ @partywithabaddie
"Just too much cuteness in this photo baby girl looks like a doll with her daddy." ~ @proudmothatoo2soldiers
"Look at Brooklyn with her daddy a priceless moment indeed. Her first Valentine with daddy love it" ~ @bettyjay50
"I see her little google mouth. She is teething l bet. Loves her daddy. Too precious." ~ @geve4717
It's only fitting that Brooklyn chose Marc as her Valentine. Social media users have repeatedly pointed out the striking resemblance between the father-daughter duo and Kenya herself is said to be in love with the way her husband cares for their child.
Kenya, 48, welcomed baby Brooklyn via Cesarean Section on November 4, 2018, after a torturous battle with infertility and pregnancy complications.
The one-time beauty queen has since named her daughter a "miracle baby" and continues to share moments with the tot on Instagram.
A few days ago, Kenya, who had wanted a child for the longest time, shared some encouraging words for any other person in her shoes.
"You make me feel brand new," she said, referring to Brooklyn before sending a message to everyone out there. "Forget about age, what people say or even what the clock says... If this is what you want, God will give it to you."
Please fill in your e-mail so we can share with you our top stories!