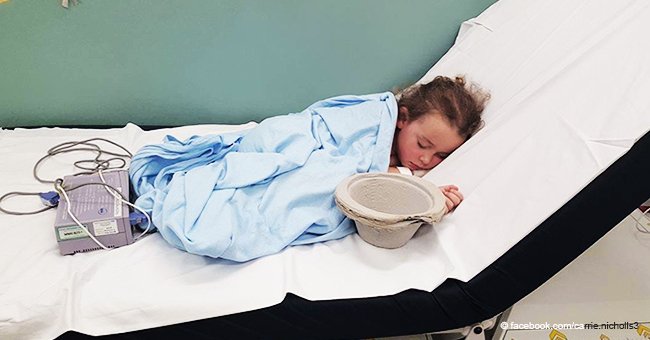 'This is what bullying does': Exhausted girl's photo in hospital bed was shared 297,000 times

Sophia, a 6-year-old girl in the United Kingdom, was hospitalized due to bullying. Her mother who is no doubt aggravated by the callousness shown towards her little girl shared an image on her Facebook page of Sophia lying on a hospital bed.
Carrie Golledge from Tiverton in Devon left people alarmed at the cruelty that goes on in the world when she shared her 6-year-old daughter's ordeal.
In a post shared on Facebook, the mother heartbrokenly lamented in a heartwarming message she shared alongside a picture of her daughter wrapped in a light blue cloth as she slept on the bed.
In Carrie's report to Mirror Online, she mentioned that her daughter was hospitalized after vomiting twenty times in an hour. The mother of three further expressed that the little girl always felt anxious and sometimes even cry herself to sleep about going to school.
The fear of what happens in school later resulted in severe anxiety for Sophia. This ordeal led to her different hospital appointments with no improvement. In one of Carrie's Facebook posts, she said:
"This is my child who has stopped eating, has cried herself to sleep, had anxiety so severe she's up sick over 20 times in an hour through the night...This is my child whose 'best friend' has emotionally abused her for so long she thought it was normal..."
Narrating the story to Mirror Online, it took a while for the parents to find out that the problem was that she was being bullied in school, even by her best friend who is meant to love her. Also, her school did nothing to help and even blamed Sophia saying "she should be the one feeling ashamed."
Knowing all these, the parents moved their daughter out of the school, and she is now much better for it.
Although there are still few episodes when Sophia remembers her past and gets sad all over again, her mum assured loved ones who poured their hearts out on Facebook that those times quickly pass by and everything seems fine.
The post has since gone viral with over 267000 shares and empathetic messages on how grueling the result of bullying can be.
In another similar case, a Texas teacher decided to cut her hair short in support of a child who was being bullied for her hair. 5-year-old Priscilla Perez started to feel shy and would even wear a hat to school after her supposed friends began to call her a boy to mock her hair.
"I would cry because I would think school was not fun," Priscilla said.
Her teacher, however, gave her the courage she needed by chopping her hair off to the same size the little girl's hair was.
Now that bullying is becoming more rampant, Carrie Golledge took a step towards eradicating the grievous act by creating an awareness page on facebook titled "Stand with Sophia." Hopefully, more people learn that hate is never the way.
Please fill in your e-mail so we can share with you our top stories!