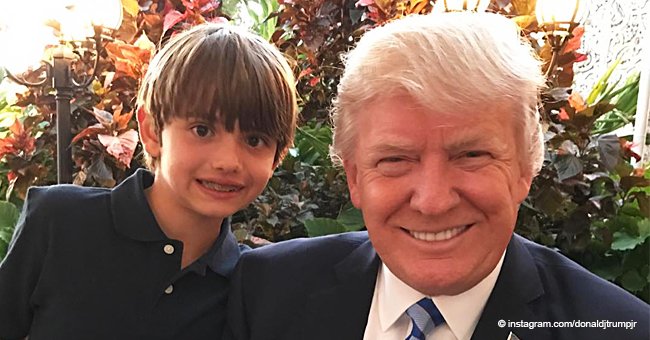 Donald Trump Jr Greets Youngest Donald Trump On His Birthday With A Touching Message

Donald Trump III just turned 10, and his father Donald Trump Jr. sent him a heartfelt message on social media.
Most people know Donald Trump Jr, the eldest son of President Trump because he always seems to be in the center of a controversy, but many don't know about his ten-year-old son.
Donald Trump III is the third generation of the Trump men to be named "Donald Trump" after his father and grandfather. He is the son of Donald Trump Junior and Vanessa Trump (formerly Haydon), born to them four years after they got married in 2009.
Although Donald Trump III is not the first child of his parents, he is the first son, hence the reason he got the name. He has had a reasonably normal life for a child born into a prominent family, which is currently the first family in America.
Donald III recently turned ten, and his father took to Instagram to celebrate him. He posted a picture of him with President Trump writing:
"Happy 10th birthday to the best little man in the world. Donnie, I'm very proud of the man you are becoming, and I can't wait for many more adventures ahead. Happy birthday to the best little woodsman and fishing buddy ever."
He earlier said that he's not afraid to reveal his soft side with pictures of his kids on social media.
While the boy's life has been shielded from public scrutiny, it has not been free from incidents. One of such incidents occurred in June 2017, involving two Secret Service agents assigned to him.
It was reported that while driving Donnie III to Manhattan from the Trump's family estate at Westchester County, New York, his secret service detail took pictures of him while he slept.
They were still taking his picture when he woke up and got freaked out by the act which he reported to his mum, who then told his father. Donald Junior took the matter to the top echelons of the Secret Service, and an investigation commenced.
The spokesman for the Secret Service then released a statement confirming that an investigation was ongoing and that the erring agents had been recalled to the Secret Service Office of Professional Responsibility in Washington D.C.
It was also reported that there was no criminal charge against the agents, as the act did not amount to criminal behavior, but was in contravention of their professional responsibility as they deviated from their duty.
Please fill in your e-mail so we can share with you our top stories!