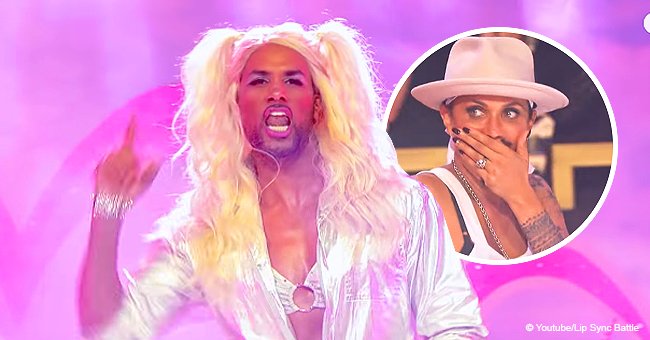 Boris Kodjoe stuns wife with his 'magical unicorn' outfit while performing on 'Lip Sync Battle'
Boris Kodjoe is a man of many talents, and he just added: "lip-syncing in heels and a wig" to that list. The handsome actor and his wife, Nicole Ari Parker, had a couple's face-off on the popular show "Lip Sync Battle," proving they know how to have fun after 13 years of marriage.
Nicole Ari Parker and Boris Kodjoe are one of the hottest couples in the entertainment industry. Not only that, but they're also talented, altruist and hard-workers. But in a new episode of LL Cool J's "Lip Sync Battle," the couple brought out their funny side for the world to see.
The "Soul Food" stars left fans in stitches with their performances, and even though Nicole was crowned as the winner of the battle, Boris stole the show with his rendition of Meghan Trainer's hit "No Excuses."
Kodjoe looked fabulous in a silver jumpsuit with a matching silver bra, white platform heels, and a blonde wig with pigtails. He wore pastel pink lipstick and blue eyeshadow to match the unicorn-pastel theme of the performance, as he showed off his best dance moves with a unicorn head toy in hand.
Nicole, who made her best 50 Cent impression on the show, admitted she had "too many emotions" after her husband's performance, and added, "I'm a little jealous of how good he looks."
"I feel like a million bucks!" Boris declared to the delight of the audience.
Boris and Nicole met on the set of the Showtime series "Soul Food," where they co-starred as love interests. And even after Kodjoe's character was written off the series, love bloomed in real life for the stars.
Thirteen years and two kids later, the pair has become "relationship goals" for their fans, and while Boris said it's flattering to be seen as an example, it's also a lot of pressure, as he told Essence last October.
No marriage is perfect, but for Boris, remembering that he and his wife are individuals helps balance their relationship. He said:
"A lot of people think that when you get married, now you're one, which is totally untrue. You're still gonna be individuals, and you have to respect each other's individuality and each other's space, which is very important, while at the same time create synergies here and there throughout your life."
For the 45-year-old actor, it is also important to give the other person space to make mistakes and the chance to work through them.
"We give each other space to f**k up," he said. "We live in this very instant gratification environment where everything has to be right now, and if it doesn't work out [you leave]."
In the end, Boris and Nicole don't worry about people's opinions and instead are focused on being true to each other "and nurture our relationship the best way we can and hope to come out on top," he concluded.
Please fill in your e-mail so we can share with you our top stories!